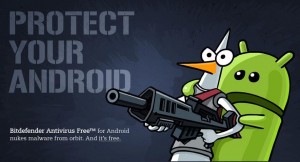 Security software vendor Bitdefender has launched its 'Antivirus Free' app on the Google Android platform to combat the growth in mobile malware. 
The app promises a "fast and powerful antivirus solution that taps the latest in-the-Cloud scanning technology and prevents battery strain."
"We would like to see [Antivirus Free] as widely employed as possible, so we made it easy to use, light on the battery, and lethal to Android malware," Bitdefender chief security researcher, Catalin Cosoi, said.
For the everyday smartphone user, the app looks basic and is simple to operate. The key feature of the plain user interface is a big 'Scan' button, and beneath is an indicator of whether the device is safe and a record of the last time it was scanned.
Tapping the large button will initiate the scan which takes approximately one minute depending on the number of apps you have installed, content on the device, and of course which device is being used. If there are no threats, users will get the green light.
We used the 'EICAR Anti-virus Test' app (also available on the Play Store) to determine whether 'Antivirus Free' will detect a threat, and it did so as soon as the former was installed. Once Bitdefender's app pings malware, users have the option of uninstalling or removing it immediately.
Above the 'Scan' button is a header which has a settings menu icon to its right, and an autopilot indicator directly beneath.
The menu does not have much to offer in terms of customisation or tweaking, but does allow users to toggle whether storage is scanned. It is not possible to turn autopilot off, and to turn on 'Advanced Protection', users must upgrade to the 'Bitdefender Mobile Security' app; a free trial is available, but costs follow the 14-day period.