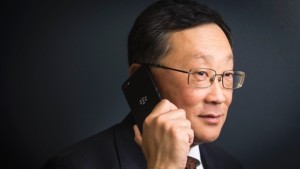 BlackBerry CEO John Chen wants net neutrality to extend to content and applications, so that developers of apps for Android and iOS will be mandated to develop on the BlackBerry platform as well.
Not all content and app providers have embraced openness and neutrality, Chen wrote in a blog post that the company said was adapted from a letter sent to U.S. lawmakers on Wednesday. Policymakers must demand openness not just at the traffic and transport layer, but also at the content and applications layer, he added.
"Unlike BlackBerry, which allows iPhone users to download and use our BBM [BlackBerry Messenger] service, Apple does not allow BlackBerry or Android users to download Apple's iMessage messaging service," Chen said. He also took a shot at streaming service Netflix for refusing to make its streaming movie service available to BlackBerry customers.
"Many other applications providers similarly offer service only to iPhone and Android users," said Chen, who added that as a result a "two-tiered wireless broadband ecosystem" had been created where Android and iPhone users have more access to content and applications than users of mobile devices running other operating systems.
"Therefore, neutrality must be mandated at the application and content layer if we truly want a free, open and non-discriminatory Internet," said Chen, who added that all applications and content providers must be prohibited from discriminating based on the customer's mobile operating system.
The BlackBerry OS accounted for less than 1 percent of the global smartphone market in the third quarter of 2014, according to research firm IDC. Android had 84.4 percent while iOS had 11.7 percent and Windows Phone had 2.9 percent.
On the issue of carrier neutrality, Chen favoured using current rules to keep the Internet neutral rather than reclassifying broadband under Title II as common carrier under the Communications Act. Title II of the Act already defines telephone companies as common carriers, and requires them to deliver service at "just and reasonable" rates and interconnect with each other.
"Given the unique nature of wireless networks, including the highly competitive wireless business in the United States and the bandwidth limitations inherent in spectrum-dependent transport, reclassifying broadband as a Title II service seems excessive to us," Chen said.
Originally published on
IDG News Service (Bangalore Bureau)
.
Click here to read the original story.
Reprinted with permission from
IDG.net
. Story copyright 2023 International Data Group. All rights reserved.