After launching its BBM service for Android and iOS users last week, BlackBerry is now focusing on its latest mobile operating system—BlackBerry10. "The ability to bring in the BlackBerry experience in terms of control, reliability is something we are looking at growing to other platforms," explains Nick Horton, Managing Director, Middle East, BlackBerry.
At GITEX 2013, which concluded last week, the company highlighted its sponsorship with Mercedes Formula 1 team and displayed the range of devices running BB10—Z30, Z10, Q5 and Q10.
According to the company, BlackBerry 10 is the only platform today for the enterprise that offers completely self-created operating system level separation between personal and work space. "You have no other platform that offers that. Our customers who need hi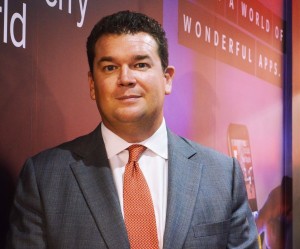 gh level of security but also at the same time high level of personal privacy now use BlackBerry 10," says Sinisha Patkovic, Vice President Product Security Advisory, Mobile Enterprise Computing, BlackBerry.
"There is a huge uptake on BlackBerry 10, especially in regulated and Government space this year," Patkovic adds.  The company also has recently launched its Blackberry Enterprise Server (BES) 10 with the software for managing androids and i-phones, which is a workspace solution for these platforms. "This has received a huge interest from the field. This is because a lot of CIOs have all been under the impact of Bring Your Own Device (BYOD). And most of them decided to do something tactile about it. They didn't know how productivity or security was going to be," he says.  The CIOs then decided to deploy MDM (Mobile Device Management), but are still in the tactile stage. They are not completely sure if they hit productivity and security. "They are very interested to see what we can bring into the table because they are now realising to get maximum out of their ability, they cannot constantly be on the tactile, which means you get your email secured and introduce one or two apps. That's not completely leveraging mobility through investments." Therefore, they are on the look-out for a platform that could put them on a strategic mode, which means settle on their mobile device management and go for a long-term development. "In this way, if a company wants to use only Android, we will provide management and they can develop Android apps, which then leverage our solution and our secure connectivity to connect it to the enterprise. We save the money and simplify things. This is a big story from us for this year," explains Patkovic.
Earlier, it was only corporate liable BYOD but now there are things like corporate-owned and personal-enabled, where company standardises on a smartphone but allows employees to choose the handset and they have to respect personal privacy fully and allow the employees to do everything on their own. This is the only technology that helps you to do that, according to Patkovic.
With more than 10 years of experience, the company is also exploring opportunities in the Cloud space. "We are bringing our experience with Cloud together with our enterprise management experience, and fusing that into enterprise cloud solution. We want to allow companies from small and medium enterprises all the way to the Government to leverage cloud so that they don't have to do any complicated on premises solutions. We are bringing this to the market," he adds.