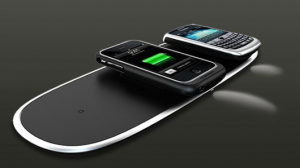 Mobile devices will be able to talk to wireless charging platforms through a partnership between the Alliance for Wireless Power (A4WP) and the backers of Bluetooth.
The Bluetooth Special Interest Group and the A4WP announced a memorandum of understanding on Wednesday to make the Bluetooth Smart radio standard available for A4WP charging systems. Bluetooth Smart could power applications that prioritise one device over another or let phones tell chargers when their batteries are full.
A4WP is one of a handful of emerging standards for powering up devices without having to plug them in. It's expected to ship next year in charging pads for homes and public venues such as coffee shops. The Bluetooth SIG has issued a UUID (Universally Unique Identifier) to the A4WP for use in its BSS (baseline system specification). With the BSS, A4WP chargers will be able to communicate with smartphones and other devices via Bluetooth Smart, a low-power version of Bluetooth for so-called Internet of Things applications. Bluetooth Smart will be able to carry session management and power control data, the groups said.
Wireless charging platforms by themselves just transmit electricity into devices through space or other objects. A4WP charging pads can stand by themselves or be installed in countertops and other furniture. Users with handsets, tablets and other products equipped for A4WP can charge them just by placing them on top of the pad or somewhere else in the immediate area.
Adding Bluetooth Smart to chargers will provide a communication channel that many mobile devices are already equipped to use, according to Suke Jawanda, the Bluetooth SIG's chief marketing officer and vice president of product management. Virtually all new smartphones and tablets sold in the past two years have chips that support Bluetooth Smart, and the technology is also coming into operating systems. All iPhones since the iPhone 4s, all iPads since the third generation of the tablet, and all Windows 8 and 8.1 systems have it, Jawanda said. Android also includes the technology beginning with Version 4.3 of the OS, he said.
"Apple is all in, Microsoft is all in, and now Android is all in," Jawanda said.
Once a device can identify itself to a charging pad, there are many ways that information can be used, Jawanda said. The Bluetooth SIG envisions applications such as a way for consumers to put their phones down on a charger in a coffee shop and automatically have their regular order sent to the staff. There are also possibilities for mobile payments, including automatic payments for using the charger, and location-based services, Jawanda said.
The new communication link might make device charging more green, according to analyst Jack Gold of J. Gold Associates. Today, even wired chargers can't talk to the devices they're charging, so consumers are missing out on potentially useful features such as stopping the power draw from the wall after the device is ready, Gold said. The move to wireless should make this easier to implement because there are widely used networking protocols in that area, such as Bluetooth, he said.
Theoretically, Bluetooth could even transmit information about how much power a device has drawn from the charging pad, Gold said. That would allow users in public venues such as airports to charge a device with one of the pads and pay just for the amount of energy they consumed, he said.
The biggest challenge for wireless charging is the number of competing standards, according to Gold. Unfortunately, no one partnership or feature is going to put one standard over the top, he said. It will take a preponderance of vendors adopting one specification.
"This is Beta versus VHS. If I build a device, what standard do I put in it for wireless charging?" Gold said. "That's going to impede some of the acceptance." A divided market also holds back economies of scale needed to drive prices down, he said.
The A4WP was founded by mobile hardware giants Qualcomm and Samsung and also counts Intel among its members. The memorandum with Bluetooth is not exclusive and A4WP is open to considering other technologies that will enhance the user experience, but it's building in Bluetooth from the beginning, according to Geoff Gordon, marketing chairman of A4WP.
Originally published on IDG News Service (San Francisco Bureau). Reprinted with permission from IDG.net. Story copyright 2023 International Data Group. All rights reserved.