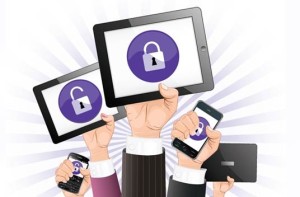 The Bring Your Own Device (BYOD) movement is supposed to boost worker productivity but a study released on Monday said it can also breed distrust between employees and IT departments.
Nearly half of American workers (45 percent) said they're worried about IT accessing personal data on devices they use for work and home, a report by Aruba Networks revealed.
Similar sentiments were expressed by European workers (25 percent) and those in the Middle East (31 percent), said the survey of 3,000 workers worldwide.
In additon, nearly one out of five European workers (18 percent) and more than a quarter of Middle Eastern respondents (26 percent) feared their IT departments would interfere with their private data if they got their hands on the worker's devices.
The survey also revealed that workers did not take kindly to IT snooping on personal data on devices. Asked about their feelings toward company techies accessing personal data on a worker's phone, about half of European and Middle Eastern respondents said they'd be "angry". More than two out of five workers in the survey said such actions would make them feel "violated".
Worker distrust of IT appears to be fostering employee behavior that works against a company's security interests. For example, surveyors found that around one in every six workers in the regions covered in their research confessed they haven't told their bosses they're using a personal device for work.
Workers also exhibited an unconcerned attitude toward their employer's data. Some 13 percent of Europeans, 26 percent of Middle Easterners and 11 percent of US workers said they wouldn't report the compromise of a personal device – even if the breach resulted in the theft of company data.
Even workers who would report such breaches to their bosses admitted they'd take their time doing so. Forty percent of European, 41 percent of Middle East and 36 percent of American workers said they would not report leaked data immediately.
"In short, employees resent the power their employers now wield over their personal data, but are equally unconcerned about keeping company data safe," Aruba Networks' Chief Marketing Officer, Ben Gibson, said in statement.
Almost a third of American workers (31 percent) distrusted any security software installed on a personal device by their IT departments. "The reason they don't trust IT is because they believe this potentially is way for IT to have visibility into their personal information," said Chris Kozup, a Senior Director at Aruba.
BYOD is forcing the personal and the professional to coexist on mobile devices. "BYOD is here," Kozup observed. "It's a reality for many organisations. Because of that, we have to look at methods for co-existence between personal and professional data."
"The challenge is to make sure that the enterprise can control the privacy and security of corporate data in the world of BYOD without touching the personal data on a device," he said.
To do that, many businesses have implemented mobile device management systems (MDM). Those systems control, through rules or policies, what devices can do when they connect to a network, as well as give a network administrator the power to do things like wipe a phone remotely if it's misplaced or stolen, and prevent it from being modified, or "jailbroken".
"It can become very intrusive to the end user," said BlackBerry's Senior Director for Enterprise Developer and Tech Partnerships, Gregg Ostrowski. "I can see how an end user could jump to the conclusion that IT is out to get them."