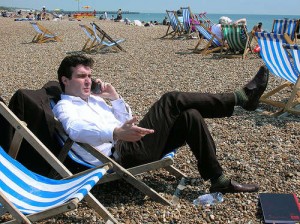 Many employees are working up to 20 additional hours per week unpaid as a result of bring your own device (BYOD) policies adopted by their firms, according to Wi-Fi access firm iPass.
The quarterly Mobile Workforce Report illustrates that a third of mobile enterprise workers never fully disconnect from technology during their personal time.
The iPass figures, based on a survey of 1,200 mobile enterprise workers worldwide, showed that only eight percent disconnect completely from work while they are on holiday.
The report also said that 92 percent of mobile workers "enjoy their job flexibility" and are "content" with working longer hours. In fact, said the report, 42 percent would like "even greater flexibility for their working practices".
"BYOD is effectively turning us into a generation of productive workaholics, with many workers seemingly happy to work during their downtime in exchange for flexibility in how and where they work," said Rene Hendrikse, VP of EMEA at iPass.
"Mobile workers want to help their companies stay competitive in a fast-paced and challenging business environment and for this reason nearly half of all businesses are now actively encouraging flexible working."
However, iPass warned that employees run the risk of literally paying the price for this flexibility, with 18 percent shouldering their own mobile data bills, an increase of six percent from last year.
The poll also looked at the growth of video communications. Over two-thirds (67 percent) of mobile workers are using video conferencing and/or video chat applications more than they did in 2011.
Skype was the most popular video communications technology, with 70 percent of mobile workers using it as their first preference, and 36 percent used a Cisco platform. This was followed by 29 percent who preferred to use Apple's FaceTime, and 13 percent chose Google's Gmail video chat.
A fifth (19 percent) of mobile workers said their companies did not require security on smartphones or tablets to access work data.