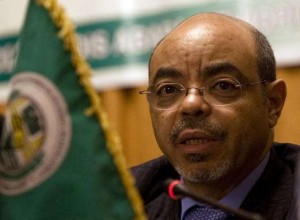 Analysts are claiming that the death of Ethiopian Prime Minister Meles Zenawi, long accused of censoring ordinary citizens' access to the internet, blocking news websites and jamming Ethiopian Satellite Television, will leave the future course of technology in the country uncertain.
The 57-year-old Zenawi, in power for more than 20 twenty years, died Monday in a hospital in Brussels. Zenawi had not been seen in public for two months and no details of his illness have been divulged by the government.
Zenawi will be remembered for a ruthless crackdown on social networks and online media organisations as well as the jailing of people who used such media to oppose his rule. He will be replaced by his deputy prime minister, Hailemariam Desalegn, who will govern the country until elections in 2015.
However, very little is known about Desalegn and his ability or interest in liberalising the country's telecom sector and opening it up for international investment.
"The whole region is waiting to see if Desalegn will open up the country's mobile market to foreign investors. There is no clear direction for now because Desalegn was every much in the background when he was deputy," said Edith Mwale, telecom analyst at African Center for ICT Development.
The country's state television meanwhile, has announced that the country has lost a great leader whose policies and strategies will further be strengthened.
Ethiopia has a population of 82 million, making it the third largest country in Africa after Nigeria and Egypt.
But according to Informa Telecom & Media research, Ethiopia has less than 17 million mobile phone subscribers.
Zenawi allowed only the state-owned operator, the Ethiopian Telecommunications Corporation (Ethio-Telecom), to deliver telcom services in the country.
Ethiopia has a president but analysts say this position is largely symbolic, as the real power rested with Zenawi while he was alive.
Zenawi was a rebel leader who came to power in 1991 after helping to overthrow the dictatorship of Mengistu Haile Mariam.
Zenawi became even tougher after the successful uprisings against Egyptian President Hosni Mubarak and Tunisia's Zine El-Abidine Ben Ali through demonstrations coordinated in part via news websites and social media networks last year.
The People's Republic of China is reported to have been providing training, technology and technical assistance to the regime to enable it to jam Ethiopian Satellite Television's transmission, block news websites and censor access to the internet.
China is a major funder of ICT projects in Ethiopia, having financed via loans a US$1.5 billion Ethiopian Millennium Project, described by African telecom analysts as the largest ICT project to be financed by China in Africa. Additionally, China also financed a project to create a fibre-optic transmission backbone across the country in order to expand the cellular GSM network, with an estimated 8.5 million new connections.