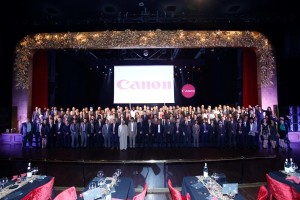 Canon, a global player in imaging solutions, held its annual partner conference for the Middle East and Central and North Africa regions. A key highlight of the conference this year was Canon Europe's announcement of the founding of new 'Canon Central and North Africa (CCNA)' business division, which will enhance Canon's business within the Africa region.
The three-day event, held at The Ritz-Carlton Hotel in Dubai, brought together over 150 partners from across 56 markets covering the Middle East and the newly formed CCNA region. The Conference evaluated the growth and performance in 2015 before detailing the moving forward strategy for 2016.
Anurag Agrawal, Managing Director, Canon Middle East, said, "Canon Middle East marked a successful year in 2015 where we expanded into new markets and strengthened our offering to meet the evolving requirements of customers.
"Canon's Annual Partner Conference is a strategic opportunity for us to further engage with our partners and strengthen our relationships with them. As the first-point for market feedback, our partners provide us valuable insights on customers. By listening to them and working with them, we will continue to expand our business in 2016. We see strong growth opportunities in the region and we will continue to add value to all our stakeholders during 2016."
Among the highlights of 2015 is the commencement of direct operations in Qatar and strengthening its facilities in Abu Dhabi. Building on the conference theme of 'One', the event also focused on 'listening forums' that encourage sharing feedback with partners through open communications. Canon has also announced the continuation of its 'Executive Forums' enabling it and partners to work collectively and more efficiently, towards new possibilities and wider horizons.
With the launch of CCNA, all African partners originally under Canon Middle East and Canon South Africa will now transfer to the new entity by January 2016, after which CCNA will be responsible for all aspects of the Africa business.
CCNA will meet customers' demands in the rapidly evolving and challenging African market with increased on-ground support from Canon, and a focus on developing the market across all B2B and B2C product categories.
Roman Troedthandl, the new Managing Director of Canon Central and North Africa, said, "The formation of Canon Central and North Africa will energise our operations across Africa as we roll out our strategy of growing our reach and engaging our customers. We welcome our partners to this new entity and hope to continue building a mutually beneficial partnership in the days ahead. Our clear strategy and fixed targets will enable us to grow in our target markets and meet the aspirations of our customers."
Canon also held a forum for the participants to discuss industry trends and B2B and B2C social media marketing strategies.
A gala dinner was held at Music Hall at the Jumeirah Zabeel Saray, where 18 Canon partners were recognised. Canon presented its 'President Award' to its partner, Genetco, from Oman.