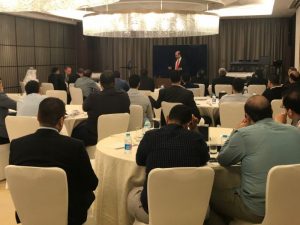 Canon Middle East has expanded its partner programme and eServices in the Kingdom of Saudi Arabia to facilitate innovation, drive business growth and deliver success for partners and customers. The firm has also announced a strategic partnership with Alkhorayef Printing Solutions (APS), a part of the Alkhorayef Group, a prominent player the Saudi printing market. These announcements were made at a partner event in Hyatt Regency Riyadh Olaya , which brought together over 28 resellers, to whom Canon demonstrated the capabilities of its portfolio of large format printers.
Aligned with the Kingdom's 2030 Vision of improving the nation's competitiveness and developing local businesses and capabilities, Canon's new partner programme helps resellers and partners unlock additional value and  enhance competencies and business benefits. The unique eService programme, a first from Canon in the Middle East, offers partners the opportunity and flexibility to sell, lease, or rent a large-format printer to an end-user, and introduces the concept of 'Printer-as-a-Service' to the Kingdom.
The strategic partnership with Alkhorayef Printing Solutions extends the reach of Canon's brand, products, solutions, and services in the Kingdom. With the strength of APS' vast experience in the industry, Canon will streamline the delivery of its technology-led solutions for customers in the Kingdom, to meet their printing and imaging requirements.
Shadi Bakhour, business unit director, B2B, Canon ME, said, "Driven by the Saudi Vision 2030, businesses in the Kingdom of Saudi Arabia are increasingly looking to adapt, evolve, and seize new opportunities. Canon has always been committed to developing our channel ecosystem in the Kingdom and partner with them at every stage of their need."
"With the widest portfolio of printers in the industry and our unique heritage in imaging technology, we look forward to helping businesses in the Kingdom unleash the power of print and realize their full potential through our trusted ecosystem of partners such as APS. Our unique eServices programme highlights our collaborative approach with our partners to ultimately exceed customer expectations " he continued.
Bandar Ibrahim Allhorayef, president, Alkhorayef Printing Solutions, said, "We are excited to partner with Canon Middle East and broaden our print solutions portfolio. By bringing together our experience and reach, and Canon's innovative portfolio of products, we are geared for success in delivering high-quality products and solutions for the advanced customers in the Kingdom."
Canon recently brought all its UAE channel partners under one roof to recognise them for business performance and innovative selling practices.