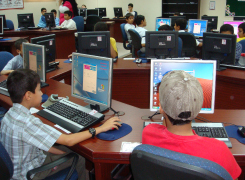 Canon Middle East has announced that for the third consecutive year it will support the ICDL Summer Camp initiative, which is run throughout universities and centres in the GCC with the purpose of boosting the IT skills of the region's youth.
The summer camp, which runs from July to late August, is being organised by educational authorities and universities throughout the region under the auspices of ICDL GCC Foundation, the governing body and certification authority of the International Computer Driving License program (ICDL) in the GCC.
Canon ME will offer a range of rewards such as printers and cameras to the highest achievers from among the thousands of ICDL summer camp participants. It also plans to organise workshops on photography techniques for the ICDL students.
"Developing the skills and competencies of the youth is a very important undertaking for society as they are the future leaders and hold the key to innovation and creativity. Canon's support of the ICDL Summer Camp is in line with the company's corporate philosophy of 'kyosei' which emphasises living and working together for the common good," said Anurag Agrawal, MD at Canon ME.
"Today, IT know-how is a requirement and not just a trend. We are pleased to lend our support to the ICDL summer camp for the third running year as we believe that by empowering the youth with these critical computer skills we are helping to pave the way to a knowledge-based society," Agrawal added.
It is estimated that 6,000 students from across the GCC will undergo extensive computer training in accordance with the globally recognised ICDL standards through the 2012 summer camp.
The participants are expected to achieve the ICDL certification after passing official tests that not only affirm their competence in using the computer and the internet, but that also attest to their resourcefulness, self-confidence and sense of responsibility.
"The continued success and expansion of the summer camp is a testament to the unique partnership forged between the public and private sectors and we are proud to have Canon on board for the third year supporting this key initiative," said Jamil Ezzo, director general of ICDL GCC Foundation.
"We share a common goal of expanding the digital learning culture across the region making a difference to the young people of today who are the future of tomorrow," Ezzo added.