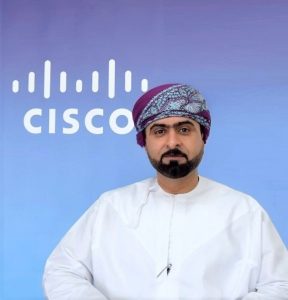 Cisco has appointed Ali Al Lawati as general manager for Oman. In his new role, Ali Al Lawati will work closely with public and private sector organisations to help enable their digital transformation journeys.
"Ali's appointment reflects our commitment to developing local talent regionally, particularly in leadership roles where qualified professionals are able to bring to bear their experience and acute understanding of market dynamics," said Shukri Eid, managing director, East Region, Cisco Middle East. "The high caliber of Omani human capital available is a testament to the Sultanate's ability to link the educational system to the growing requirements of a modern labor force."
As general manager of Cisco's Oman operations, Ali Al Lawati will drive Cisco's support of the Digital Oman Strategy, which aims to advance the development of the ICT industry. Its key pillars are the development of human resources, as well as the national digital infrastructure and governance. In his role, Al Lawati will use Cisco portfolio of solutions to strengthen collaboration with the Omani government and Cisco's partner network to make sure that the company remains the partner of choice for digitisation, said the firm.
"Oman is currently undergoing a significant transition, with technology playing an increasingly important role as an enabler to the Sultanate's economic diversification. As a technology leader with a longstanding presence in Oman, Cisco will continue to contribute its digital transformation expertise to support the country's journey to transform into a sustainable knowledge-based economy and digital society," added Shukri.
Oman's growing numbers of mobile and fixed Internet subscriptions, combined with a young population, offer significant opportunities for the development of a vibrant digital economy. Over the last decade, Oman has made significant advancements in developing its technology infrastructure and capabilities in both the government and private sector.
"I am excited to join the Cisco team. As a global technology company, Cisco has well-tested practices in enabling digital transformation," said Al Lawati. "As organisations in Oman seek to optimise costs and drive efficiencies, there is immense potential for growth in area such as mobility, security, cloud, big data, and analytics. With our expansive portfolio of smart solutions and outcome-based approach, Cisco is better-placed to support businesses in implementing their digital roadmaps."
With more than 20 years of experience in the Omani ICT market, Ali Al Lawati has held various roles within the sector, including CEO and consultant and head of Projects, in addition to having served on the Board of Directors for a commercial data centre entity. Prior to joining Cisco, Ali was the CEO of Nasma Telecommunications and the Head of IT and Telecommunications Projects at Petroleum Development Oman.