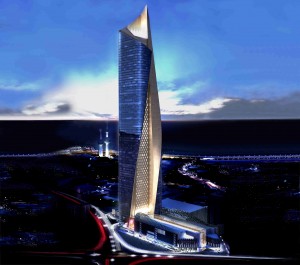 Al Hamra Real Estate Company has chosen Cisco to provide ICT infrastructure for Al Hamra Tower in Kuwait, an iconic landmark that is set to be the tallest sculpted tower built and one of the tallest skyscrapers in the world.
Cisco Smart+Connected Real Estate solutions will make Al Hamra Tower one of the first commercial buildings in Kuwait with an end-to-end building information network.
A centrally managed Cisco IP network will act as the central nervous system of the building, optimising building performance, reducing building energy footprint, and providing services and features that enhance the occupant experience.
Al Hamra Tower, which is Kuwait's tallest skyscraper, plans to become a centre of excellence, integrating state-of-the-art technology, creativity and originality.
"Today's end users demand more new experiences. They want services that can save time and resources and deliver better results. Through Cisco's Smart+Connected solutions, we are utilising the network as the platform to enable better facilities management to transform the tenants experience and drive asset value," said Khalid Al Othman, vice chairman and CEO at Al Hamra Real Estate Company.
"We are proud to be driving that change in our future-ready buildings to foster collaboration and enable access to resources helping spur economic, social and environmental sustainability," he added.
Cisco is working closely with Kuwait Digital Computer Company (KDCC) to sell, deploy and implement the solution. KDCC will also provide advice and guidance to assist the Al Hamra Real Estate to select and define technology-enabled value-added services for the Al Hamra Tower development.
The collaboration between Al Hamra and Cisco started last year, when Cisco was selected to support the provision of technical advice and guidance to assist Al Hamra Real Estate in the creation of a transformational experience at the Al Hamra Tower.
"Cisco envisions a future where successful communities and cities will run on networked information, and the network as the platform will enable economic development, better city management and an improved quality of life for citizens," said Hani El-Kukhun, GM at Cisco Kuwait and Bahrain.
"Everything connected to the network in these Smart+Connected Communities can be greener, more intelligent and more secure. Our collaboration with Al Hamra Real Estate has resulted in a building which truly embraces these elements and is focused on delivering next-generation building services," he added.
The first phase of the solution comprises the infrastructure components required to transform Al Hamra Tower to a Smart+Connected building. The building will be connected via a single, intelligent Cisco infrastructure, providing multiple services across one IP network – delivering data, voice and video.
The second face will include value-added tenant services such as digital signage, smart kiosks, and IPTV, while phase three is envisaged to provide Al Hamra Tower tenants with high-end videoconferencing capabilities.