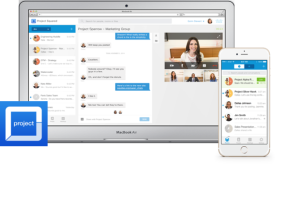 Cisco will package and deliver enterprise collaboration capabilities via a mobile and Web app built to replicate the ease of use of consumer software but designed for ad hoc, workplace team interaction. 
The app, called Project Squared, joins a growing number of "consumerised" enterprise mobile and Web apps built by startups and designed to put a spin on collaboration, messaging, productivity, video conferencing and communications.
Some of those include Cotap for enterprise mobile messaging, Quip for word processing and spreadsheets, Slack for chat room-like communication, SmartSheet for project and task management and Vidyo and Blue Jeans Network for cloud-based video conferencing.
Gartner analyst Adam Preset views Project Squared as competing more directly with enterprise mobile messaging apps modeled after consumer messaging apps, like Whatsapp. "Cisco seems influenced by this trend and, like competitors in the enterprise mobile messaging space, can make a good case that Project Squared can help the workforce be more agile, respond more quickly to change, and reduce some the friction that comes along with more formal and structured enterprise IT solutions," he said via email. "This market is still developing and dynamic and there's room for competition."
A beta version of Project Squared is being announced at Cisco's Collaboration Summit on Monday and made available for free download for iOS and Android devices. The app, which will also be available for MacOS computers and whose Web version works on Chrome, Firefox and Safari, lets users communicate via text chat, audio and video, hold multi-party meetings and share content.
Project Squared users can launch 'team' rooms, invite fellow employees or outside collaborators and begin to interact in the various ways made possibly by the app. Files shared via the app are hosted in the Cisco cloud, which also provides what the company describes as "end to end" content encryption.
"It is definitely a move in the right direction. Cisco needs to pivot to the cloud from a product and platform perspective. They need to remain relevant when the easily attainable and 'good enough' competitive products are able to meet users' immediate needs," said Vanessa Thompson, an IDC analyst.
Project Squared gives Cisco a place at the enterprise mobile app table, since it's free for anyone to download, so employees can start to use it without necessarily getting approval from their IT departments. However, Cisco is developing an IT administration and management console for Project Squared. "It's a critical part of our roadmap," a Cisco spokeswoman said via email. "We have an early stage version in development and expect to start limited trials soon with IT admins and partners."
The app also complements Cisco's collaboration and UC (unified communications) product stack by extending it to mobile devices. Cisco already offers voice communications, video conferencing, IP telephony, IM and Web meetings via a variety of hardware devices and cloud and on-premise software for desktops, small and medium-size meeting rooms, and large conference rooms.
Many of Cisco's collaboration and UC products have mobile components, including most notably the desktop Web conferencing tool WebEx and the Jabber enterprise IM system. It's unclear whether Project Squared will overlap and eventually possibly replace some of those existing mobile apps.
For now, Cisco is saying that the Project Squared app integrates with WebEx, as well as with third-party calendar apps, Microsoft's Active Directory, and Box's enterprise cloud storage and file sharing service. Specifically for Box, Project Squared users will be able to call up files from their Box repositories and view them within the app's team rooms without having to download them.
The Box integration is a good first step, but enterprises will also expect similar links with other cloud storage repositories where their employees keep their content, including Dropbox, Microsoft's OneDrive for Business and Google's Drive for Work. Similarly, enterprises invested in Google Apps, Office 365 and other collaboration suites need to determine just how extensible and interoperable Project Squared will be.
"It is not yet obvious how well something like Project Squared will play alongside or augment those experiences. Squared users might be siloed unless there's integration," he said.
While the app will be free, it will have fee-based premium features. "We intend to have a free version for casual use and a competitively priced professional version with enterprise licensing and administration controls," the Cisco spokeswoman said. Cisco expects to release a finalised version of Project Squared in the second quarter next year.
At its Collaboration Summit, being held this week in Los Angeles, Cisco also announced the Telepresence IX 5000 Series, a high-end video conferencing system with three 70-inch screens, three 4K ultra high-definition cameras and a "theatre quality" sound system with 18 speakers, a subwoofer and a microphone array with more than 17,000 micro holes.
Thanks to H.265 compression, the IX 5000 requires half the bandwidth and less power than prior three-screen systems from Cisco. Cisco estimates that two people can set it up in eight hours, again half the time of previous, similar systems. It's scheduled to ship in December.
Originally published on
IDG News Service (Miami Bureau)
.
Click here to read the original story.
Reprinted with permission from
IDG.net
. Story copyright 2023 International Data Group. All rights reserved.