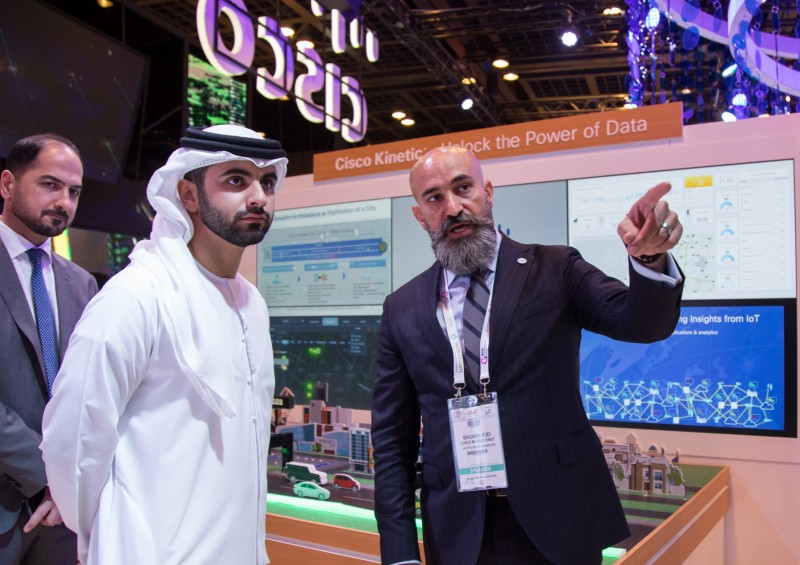 Cisco, during its participation at the recently held GITEX Technology Week 2017, showcased some of its latest innovations and solutions for the digital era.
Aligned with the theme of 'Re-Imagining Realities,' Cisco's participation at this year's GITEX invited customers, partners and organisations to experience how Cisco solutions are helping businesses and society to securely connect and seize tomorrow's digital opportunity today. A large number of government and public sector officials and businesses leaders visited Cisco's showcase at the regional event to witness practical demonstrations of digital scenarios across multiple industries.
With many GCC governments, and especially the UAE, announcing their national digital transformation visions and Smart City initiatives, Cisco took the opportunity to showcase 'The Network. Intuitive.,' its new generation of intent-based networking systems, for the first time in the UAE.
The company conducted simulations of its advanced technologies including machine learning, artificial intelligence and analytics to illustrate how they are helping address challenges, enhance competitiveness and deliver tangible benefits to businesses.
"As we move into an era of complete digitisation, we are keen to demonstrate the impact of our latest innovations with tangible examples that show the benefits our solutions deliver to countries, industries and businesses," said Shukri Eid, Managing Director – East Region, Cisco Middle East. "Our message is clear: digital transformation is disrupting industries and changing the world at an unprecedented rate. Organisations and businesses across all sectors must act now to remain relevant and to position themselves ahead of their peers."
At GITEX Technology Week 2017 Cisco invited Middle East organisations to re-imagine their businesses by highlighting real-life, industry relevant scenarios that demonstrate how its solutions can help accelerate their digital transformation journey. Partnering with Intel, Emircom and Alpha Data, Cisco brought digitisation to life at its stand by showcasing customised technology solutions for key sectors relevant to the Middle East's digitalisation priorities. These included vertical-specific solutions for the public safety and security, retail, education, healthcare, and transport and logistics sectors, as well as the public and government services domain.
"The feedback and level of interest we received this year is unprecedented," added Shukri. "The digital era cannot be truly embraced without the full support and backing of country, city and organisational leaders. I am proud to say that we have seen a keen willingness to adopt the latest thinking – not just from a technology perspective, but also from a business model, human capital and operational point of view."
Cisco also hosted an interactive Digital Network Architecture (DNA) centre to present its enterprise networking and security solutions, offering visitors hands-on experience of how Cisco's software driven approach delivers services that turn network traffic data into actionable insights.
As a foundation for digital transformation, Cybersecurity was incorporated across all solutions including the intelligent network, data centre and cloud, with demos of the cybersecurity threat wall, and Cisco's integrated threat defense. In addition, Cisco demonstrated by how Cisco Kinetic is helping organisations extract, compute and move data from connected things to applications, enabling them to unlock the power of IoT data for smart cities to drive better business outcomes.
During GITEX, Cisco showcased the future of education using Cisco Spark Board and Virtual Reality at Abu Dhabi Systems & Information Centre's (ADSIC) 'Innovation Oasis'. Cisco executives emphasised how organisations that aim to remain competitive in this quickly unfolding digital era must leverage new digital competencies and harness the power of the third platform – cloud, mobility, social business, and big data and analytics.
Students from UAE University, the University of Sharjah, Khalifa University and other academic institutions also visited Cisco's GITEX stand to hear from Cisco's specialists and engage with interactive games at the virtual reality experience zone.