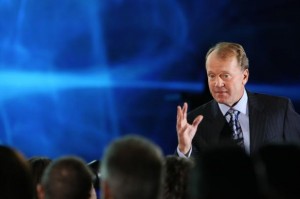 Cisco doesn't want to kill Microsoft's marriage to Skype – it just wants a dowry.
Cisco CEO John Chambers told CNBC this week that the reason Cisco is appealing the European Union's approval of the deal is that it wants changes to the deal itself. It seeks to annul the approval of the deal, not the deal itself.
Cisco's appeal is being heard in a European court this week.
"All we want is interoperability, that's what Microsoft and others have asked of us when we've had acquisitions and we think there needs to be easy interoperability … the capability of any device to [connect to] any content that we think allows the Internet to grow," Chambers told CNBC.
Cisco itself promised to surrender its Telepresence Interoperability Protocol to the open-source community as a condition of its acquisition of videoconferencing leader Tandberg. Opening up TIP could allow third parties to create add-ons for Cisco Telepresence.
Cisco claims that by acquiring Skype, Microsoft has an unfair advantage because it makes up so much of the Internet-based unified communications market, according to CNBC. Microsoft has said that Skype has 280 million people using its service for more than 100 minutes each month and accounts for about one-third of the voice calls made globally.
Cisco's own unified communications and collaboration business has been disappointing in recent quarters, flat to down 8 percent on an annual basis.
Judges in the EU are expected to rule on Cisco's case against Microsoft in the coming months.