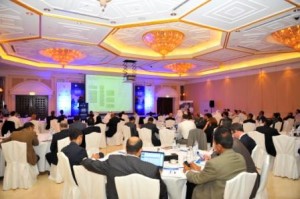 Attendees flooded the Habtoor Grand in Dubai today as CNME played host to the region's first ever dedicated big data event; the Big Data Symposium.
Though very few companies have yet to implement big data solutions, the curiosity, confusion, and hype combined was enough to fill out the ballroom where guests were treated to rare insights into the IT trend which is sweeping across the globe with gusto.
The agenda began with Kumar Prasoon, CIO of Al Safeer Group who discussed a term coined fuzzy analytics.
Demonstrating several case studies where analytics in business have proven to increase productivity, improve personalised customer experience and employee skill sets, Prasoon shed as much light on the topic as he did raise interest and mystery.
"Big data – the huge volume of data is coming from different sources, each one has its own behaviour, the analyses of these need to be dealt with a human touch," he stressed.
Following the keynote, Walid Gomaa of HP MENA gave his presentation on unleashing the power of big data where he discussed the three Vs; variety, velocity and volume.
"From buzzword to reality," he said. "It's about controlling the complexity of this data and its forms, dealing with the exponential rate of growth and the volume."
He also stressed that the correct skill set and planning was needed in order to harness big data – it's not a simple technology trend.
"It's not plug and play. You need the right software, solutions, and to provide the right information and services that encapsulates the data."
In the final stage of the event before the break, the crowd was treated to a rare case study from Gulf Air's IT director, Dr. Jassim Haji. The case study in question previously won him an implementation award at CNME's Network World Awards earlier in the year.
Gulf Air has been rolling out Arabic Sentiment – a basic data analytics tool which analyses all socially posted comments about the airline's service in any Arabic dialect.
"The importance of social media to your business is very high – anybody can say anything about you. How do you review competitors if not on social media? How do you track your market situation?
"So we came up with a tool. We wanted to know how to define feelings from text – are people happy or sad? We targeted the Arabic language. With 422 million native speakers, there are a lot of views that you can use to your benefit. If you let them speak without analysis, you're going to lose out."
Dr. Haji and his team developed a linux dictionary by inserting buzzwords commonly found in social posts around airlines, and with much work, has produced a tool which he claims is 84 percent accurate – a percentage which will continue to rise.
But it wasn't just social media which was highlighted as a driver of data growth. Alaa Abdulnabi of RSA, an EMC company, used the example of ComScore which reportedly records 31,000,000,000 transactions per day.
"We've birthed a new role; data scientist. One of the most wanted jobs at the moment. The ability to use tools and algorithms to interact with the data is going to be huge. A lot of intelligence needs to be withdrawn from that data," stated Abdulnabi.
AT Kearney's Federico Mariscotti then took to the stage to discuss the next move in pushing forward with big data. We've all heard the word being passed around, but now it's here – what's next, he posed.
"Perhaps the CIO doesn't associate big data with one of the most important things. But why should the CEO invest in big data solutions? Because it will make them money – simple," he said.
"I might be biased, but I love Ferrari and I'm trying to convince my wife to get one. It's like big data – she knows it looks good, she knows it sounds good, but she just isn't convinced," he then joked.
Drake and Scull's CIO, Terrance Sathyanarayan, has high hopes for the region though and delivered the following presentation with a great degree of enthusiasm, happily received by the audience.
"70 percent of data management professionals consider big data an opportunity. We have a 58 percent cumulative annual growth rate for the next five years. By 2018/2019, it's going to be a big, big requirement. So we're probably early adopters," he explained.
Then for another rare insight, Mohammad Al Hassan of Abu Dhabi police, explained how the police force is using big data analytics to decipher data which will ultimately provide them with the fastest routes to accidents, which type of vehicle to send to the scene, information on the accidents or cases, etc.
"My job is saving human life, reducing human suffering, and protecting property. I'm always looking for big data to support me in my decisions."
Then came the final presentation from Cognizant's Ragavendra Rao, who discussed using big data as a way of getting to know your customer – an element which could prove to be a winning move in business.
"To quote Darwin; it's not the strongest who survive, nor the most intelligent, but the one who is adaptable to change," he said.
Following this, the event came to a close with an in-depth panel discussion which addressed the concerns of the audience, who piled on their questions, providing an engaging end to a successful event.
All the pictures from the event can be seen at http://www.facebook.com/media/set/?set=a.521418894585501.1073741831.133663736694354&type=3.