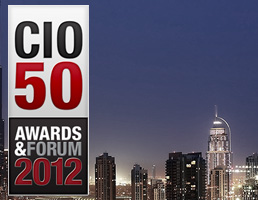 CNME, the premier technology magazine of the Middle East, has announced today that nominations are open for the Middle East CIO 50 Forum and Awards, the regional version of IDG's hugely popular CIO 100 initiative.
In its fourth year the Middle East CIO 50 Forum and Awards will celebrate the top 50 organisations (and the people within them) that are using information technology in innovative ways to deliver business value, whether by creating competitive advantage, optimising business processes, enabling growth or improving relationships with customers.
"The CIO 50 Forum and Awards will look to identify the IT leaders within organisations who have taken bold steps over the last year to fulfil organisational requirements. Perhaps they took a risk on an emerging technology, or deployed the tried-and-true in a new way. Maybe they built a better business process or fostered closer collaboration. Whatever their measures to strengthen their business, the CIO 50 Forum and Awards gives them the chance to tell their peers about the technology innovations they have enabled and how these have led the way to greater success for their organisation," said Nadeem Hood, COO of CPI.
The CIO 50 Forum and Awards 2012 is now in the process of receiving nominations from regional CIOs and IT directors. Once the nominations are in, the winners will be selected through a rigorous process by CNME's editorial team, based on primary and secondary criteria.
To be selected, applicants must show not only that they have executed their project well, but that they have done so in uncommon, innovative ways: pioneering a new technology, applying a familiar technology to a new purpose, setting the bar higher for their competitors. And they must demonstrate business value beyond a mere positive ROI, to show how the project changed the way they do business (whether internally or externally) or repositioned them competitively.
"A CIO 50 Award is an acknowledged mark of enterprise excellence. Because the award is given to companies rather than individuals, it's an honour everyone on staff to take pride in. Executives from honoured companies will be recognised among their peers and colleagues at the CIO 50 Forum and Awards ceremony, to be held in Dubai, in January 2012," said Sathya Mithra Ashok, Senior Editor of CNME.
CNME is inviting nominations from regional organisations for the CIO 50 Forum and Awards. Nomination forms have to be downloaded from www.cio50me.com, completed and mailed back to sathya@cpidubai.com or Jeevan@cpidubai.com.
Nominations for the Middle East CIO 50 Forum and Awards will close on the 12th of January 2012.
For more details on the event, and to download the nomination form, please visit www.cio50me.com.