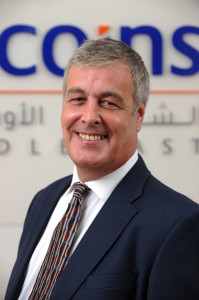 Construction industry software firm Construction Industry Solutions (COINS) has won the Queen's Award for Enterprise for International Trade in recognition of their growth in overseas earnings and commercial success in the construction sector, with the Middle East providing 26 percent of overseas growth in the past three years.
In 2012, COINS established their first office in Sharjah to cover the GCC region, providing business systems and consultancy services designed for the construction, contracting, real estate and allied industries.  Since then, COINS' permanent GCC team has increased its presence in the region, with offices in Dubai, supporting projects in Abu Dhabi, Azerbaijan, Dubai, Qatar and KSA.
"We are delighted to have won the Queen's Award, one of the UK's highest business accolades," Larry Sullivan, Group Chairman & Co Founder, COINS said. "The success of our organisation is down to our people, drawing on over 5,000 person years of construction industry experience, with every team member focusing single-mindedly on helping our local and global clients achieve their own business goals. Bringing this award winning experience to Dubai and the Gulf has allowed us to work with global leaders, such as Kier, Laing O'Rourke, Leighton and Vinci, on exciting projects and we look forward to more success as the regional construction industry continues to demand global standards based on best practice."
COINS is the first UK construction software company to be given this award, made annually by Queen Elizabeth II. Between 2011 and 2013, COINS' direct overseas turnover increased by 65 percent and group net profit increased by 144 percent. Rapid growth of business in the Middle East contributed 26 percent towards total overseas sales (i.e., non-UK) during this period; the United States contributed 60 percent with the remainder split between, Australia, Far East and Europe.
Commenting from Dubai on this regional success and the award, Nigel Cope, Director & Co Founder, COINS said, "COINS has undertaken extensive market research to fully understand not only the business drivers in the GCC but to also better comprehend the cultural and social nuances of the region, as it undergoes rapid growth. Using this insight, we further developed the COINS offering in order to encompass localisations needed to support the construction industry in the Middle East.   In every market, this approach is helping us support the local economy and grow our own business."