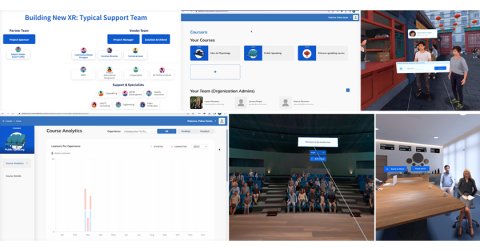 With augmented, mixed, and virtual realities currently reshaping education and work, Coursera, a global online learning platform, is expanding immersive learning opportunities for all with the launch of three new virtual reality (VR) course experiences from top global universities and a specialised augmented reality (AR) certification course from Meta.
Learners on the Coursera platform can now access VR-enabled course experiences from Duke University, Peking University, and the University of Washington, which harness the power of VR to make learning even more engaging. Additionally, the new AR Professional Certificate and Specialisation from Meta will help learners develop job-relevant AR skills. The new experiences and content are available to learners on Coursera from today.
Coursera's experiential learning courses are timely as global markets for AR and VR specifically are projected to reach US$88 billion by 2026. According to PwC, VR and AR in the UAE are forecast to contribute US$4.1 billion to the national economy, representing a 1% boost to GDP by 2030 – and during the same period, VR and AR will also have a significant impact on employment in the country, enhancing 0.6% of jobs.
VR features in popular courses
Coursera has worked closely with Duke, Peking, and the University of Washington to create new VR experiences for learners, along with support from Meta. To help learners engage with concepts more deeply, three popular courses in human physiology, Chinese language, and public speaking now have VR experiences. The VR additions complement the courses' existing lecture videos, readings, and assessments, are designed for learners of all educational backgrounds, and increase in difficulty as a learner progresses through the course material. They can be experienced via desktop or most VR headsets and are available in both paid and audited versions of each course.
These new experiences expand the immersive coursework on Coursera. The University of Michigan (U-M) already offers courses in health equity, the future of mobility, and giving effective feedback that use extended reality (XR) on Coursera.
Building AR experiences with Meta
The new Professional Certificate and Specialisation from Meta on Coursera aims to help learners build in-demand, job-relevant AR skills. Available globally, upon completion of either one, learners will gain exclusive access to the Meta Career Programs Job Board, which includes 200+ employers looking to source talent through Meta learning programs.
The newly launched Meta Spark AR Developer Professional Certificate is an advanced, six-course that teaches learners about AR, including the nuances of AR within social media, browsers, and mobile apps. While learners seeking to hone their AR knowledge will benefit from the beginner, three-course Meta Spark Creator AR Certification Prep Specialisation, which provides hands-on experience with Meta Spark and other key tools.
Last year, Meta also created What is the Metaverse?, a free, beginner-level course to help make sense of the metaverse and illustrate how both individuals and companies might participate in it. This course has attracted more than 45,000 global enrolments since launching on Coursera in late 2022.
To begin your immersive learning journey, download the free Coursera app in the Quest Store.