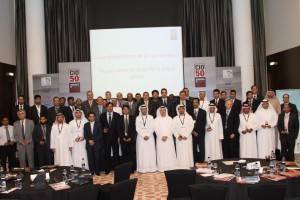 The deadline for nominations for CPI'sCIO 50 Awards and Forum 2014 has been extended until 15th January.
The awards honour the attainment of competitive advantage and accelerated business success through IT.
To be selected, applicants must show not only that their project is well-executed, but is achieved in a unique and innovative fashion.
This could be in any number of ways; through pioneering a new technology, applying a familiar technology to a new purpose, or by broadly setting the standard for industry competitors.
They must demonstrate exemplary business value, surpassing a positive ROI to show how a project transformed the way they do business – either internally or externally – or repositioned them competitively.
Organisations need the edge that information technology provides to progress, and the high-performance IT organisations that win CIO 50 awards are building better business processes, fostering collaboration or getting closer to customers and emerging markets.
CIO 50 honorees will receive their awards at our annual CIO 50 Symposium & Awards Ceremony, to be held in Dubai in January 2014. Winners will also be featured in the February edition of CNME.
To find out more about the nomination process, please click here.