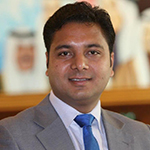 Cyberoam has recently concluded partner meet for its partners in Qatar at Crown plaza. The event was attended by more than 50 partners of the vendor from the region. According to the company, partners were treated to a day full of fun-filled activities including desert safari along with business, technology and sales focused sessions.
During the event, Cyberoam discussed its future roadmap and expansion strategy with all the challenges awaited for the region with the gathered community.
Governments and organisations are increasingly showing cyber-security awareness in the Middle East. The region holds tremendous scope for network security appliances as new businesses are rapidly expanding their network and IT infrastructure. Having a strong channel presence and being a high growth market, there is a huge potential for growth for the company's offerings in the region.
"It was an enriching experience, as we could attend some truly informative and encouraging sessions during this event. The highlight was the opportunity we received to have a better outlook on future of networks in the region we would be serving. Cyberoam is already known for its channel focussed initiatives and events like these ensure their focus and interest in the channel community," said Shakeel, Cyberoam Account Manager, Emitac, Qatar.
Being a channel focused company, the security vendor offers extensive programmes for its partners covering technical trainings and certifications along with marketing and sales support. To stimulate partner performance, the company also offers attractive incentives and reward offers from time to time.
Ravinder Janotra, Regional Manager Middle East said, "Cyberoam has always been committed to deliver future ready security portfolio, offering fit-for-all solutions to organisations of all sizes. We believe and work towards meeting the crucial commitment our partners hold for every particular region they serve. Thus, it is important that we all remain on the same page."