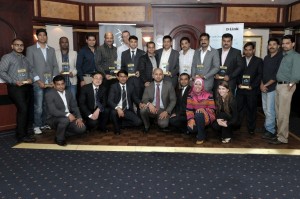 D-Link MEA on Monday reported on its annual partner awards ceremony, which took place on March 7 at the Ramada Hotel in Bur Dubai.
Important partners from the retail sector and the channel were awarded for the contributions to D-Link's growth during 2012, the networking specialist said.
Categories at the awards ceremony included best partner, SMB products, highest growth, longest partnership and top performer. Retail partners were also given awards in such categories as best in-store display and promotions, fastest-growing power retailer, best power retailer, fastest-growing hypermarket, and best hypermarket.
One of the night's biggest highlights came from the prize-giving ceremony of D-Link's Dollar Promotion, a popular programme among the vendor's channel partners.
D-Link gave away a number of gifts during this ceremony, including a 55-inch Panasonic LED 3DTV, two Philips LED 3DTVs, a MacBook Pro, a holiday trip for two worth Dh10,000, three gold vouchers worth Dh20,000 each, a Toyota Yaris, two Mitsubishi Pajeros, two Mercedes-Benz C200s and one Chevrolet Spark.
"2012 has been a great year determined by significant growth for D-Link," said Sakkeer Hussain, Sales and Marketing Manager, D-Link MEA.
"Despite the challenges in the region with currency fluctuations and political instabilities, we are very blessed to have reached a solid growth within the UAE. Our partners' drive and commitment is the key to D-Link's success and the objective of our rewarding ceremony is to let them know that they have done an incredible job last year."