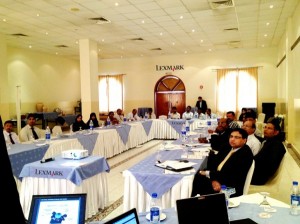 Lexmark Middle East recently held a seminar and workshop for resellers based in Oman.
Designed to familiarise Omani channel partners with the latest product lines, upcoming product launches and service and maintenance issues, the event drew in 30 partners from across the Sultanate.
Delegates were trained by Nawal Khan, Middle East Sales Manager, Lexmark, on various aspects of what makes up a successful partnership.
Product launches, corporate value proposition, supplies, services and hands-on demonstrations of new products were all covered extensively.
"Lexmark invests a lot into our relationship with our channel partners in the region," said Mathias Militzer, General Manager, Lexmark Middle East.
"Workshops like these play a significant role in spreading awareness about our latest offerings as well as improving communications channels and fostering a deeply mutually beneficial relationship."