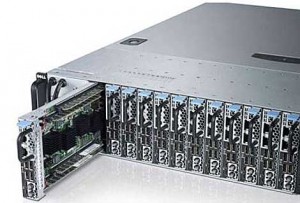 The low-power capabilities of ARM-based processors have created high expectations for their use in servers, but one of Dell's top engineers said they are unlikely to take off until 64-bit versions hit the market.
"I don't think you'll see any serious momentum in ARM until 64-bit comes out," said Jimmy Pike, vice president, senior fellow and chief architect of Dell's Data Centre Solutions division. ARM has said it expects 64-bit server chips based on its processor design to start shipping next year, with servers shipping in volume starting in late 2014 or early 2015. Pike is highly regarded in low-power server design and the Dell division he's in was among the first of the top-tier server providers to experiment with very low-power servers for hyperscale data centres.
ARM processors are being used in most smartphones and tablets, but are being investigated for use in servers as a way to cut electric bills while efficiently processing large volumes of Internet transactions. To counter ARM, Intel is offering Atom server processors as low-power alternatives to its power-hungry Xeon server chips, which dominate the data centre landscape today.
But Intel has an early advantage over ARM. Hewlett-Packard last week announced its Project Moonshot dense server with Intel's Atom processor and Dell is already offering dense servers with low-power x86 chips. The companies are relegating ARM servers to the labs, where they are offered to customers for testing.
Dell has three 32-bit and 64-bit ARM platforms in its labs and the systems deliver performance while cutting costs, Pike said. But there are software issues that will hold back ARM adoption in the near term, Pike said.
ARM processors today support only 32-bit, while many servers run 64-bit applications. ARM servers will be competitive when the CPU has 64-bit addressing, which is already supported by Intel's Atom chip.
Server processors based on ARM's 64-bit architecture are expected to become available either late this year or early next year from companies like AppliedMicro, Advanced Micro Devices, Calxeda and others. The chips will be based on ARM's ARMv8 64-bit architecture, or the Cortex-A50 series processors, which are implementations of the architecture.
There is also more to software support in servers than a Linux distribution that supports ARM, Pike said. Beyond running a LAMP – Linux OS, Apache Web server, MySQL database and programming languages Perl/Python/PHP – stack, there's a lot more involved in making ARM servers work in a data centre.
System management tools, virtualisation technology and software packages need to be ARM-compliant, Pike said. There also needs to be a common BIOS model and ARM needs to be able to work with advanced networking tools.
"We've enjoyed that in the x86 server place for 25 years or more," Pike said.
Dell was an early implementer of low-power processors in servers when it introduced the XS11-VX8 server, which had Via's netbook processor. Pike said customers will be able to buy customised ARM servers through the DCS division, but did not provide a specific date on when the systems would be commercially available. The company will also offer servers based on Intel's Atom chip code-named Centerton, which is in HP's Moonshot.
But Dell wants its offerings to be different from HP's Moonshot, which is a 4.3U with a fixed configuration of 45 Proliant servers – also called cartridges – based on Intel's Centerton chip. HP has said it will offer customised Moonshot servers with ARM and Intel processors based on customer needs in the future.
Preconfigured servers with fixed hardware specifications do not work in hyperscale models, where server configurations change and hardware needs to be ramped up rapidly, Pike said.
"One size doesn't fit all," Pike said.