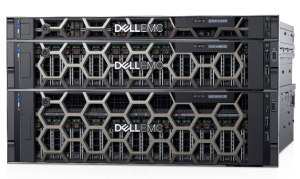 Dell EMC has announced the worldwide availability for its new 14th generation Dell EMC PowerEdge server portfolio.
Recently previewed at Dell EMC World 2017, the new portfolio forms a scalable, automated and secure compute platform for traditional and cloud-native applications, designed for new Intel Xeon Scalable processors.
According to the company, with its scalable business architecture, intelligent automation and integrated security, the new Dell EMC PowerEdge 14th generation server portfolio enable customers "to push innovation further and faster to achieve their IT transformation goals."
The scalable business architecture of Dell EMC PowerEdge servers helps customers efficiently meet their changing business needs with enhanced performance capabilities for traditional, virtualised and cloud-native workloads in a software-defined data centre, said the firm. The new Dell EMC PowerEdge server portfolio, highly optimised for non-volatile memory express (NVMe), helps customers accelerate deployment of software-defined data storage and hyper-converged infrastructure stacks with:
Accelerated database performance and lower latency with up to 12 times more database IOPS and up to 98 percent less database latency in a VMware vSAN cluster
Faster and seamless live migration of virtual machines now up to 58 percent faster with up to 75 percent less CPU usage when using 25GbE with Remote Direct Memory Access (RDMA)
Faster storage performance in compute to maximise application performance with up to six times more NVMe drives, up to five times total flash storage, 30 percent more input/output slots and 25 percent density improvement
Intelligent automation in Dell EMC PowerEdge servers enable IT professionals to focus on mission-critical tasks that drive greater customer and business value. The technology giant believes that integrated security is integral to compute and should not require extra licensing fees.
In collaboration with Intel, the firm is bringing Intel Xeon Scalable processors to Dell EMC PowerEdge14th generation servers.
Dell EMC said its solutions and platforms will also benefit from the power and security of this new generation of PowerEdge servers. The servers will be embedded in storage and data center appliances, hyper-converged appliances and racks, hybrid cloud platforms, ready nodes, bundles and other Dell EMC solutions.
Dell EMC PowerEdge R940, R740, R740xd, R640, and C6420 are now available worldwide while PowerEdge FC640 and M640 will be available later in 2017. Dell EMC solutions based on new PowerEdge servers will become available worldwide throughout the second half of the year.