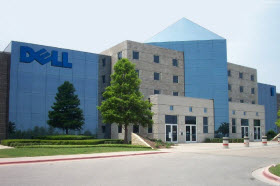 Dell has been relatively quiet about its modular data centre products, but has now showed off a new design it has started selling to large 'hyperscale' customers, which include big Internet firms like Microsoft and Facebook.
The first modular data centres, including one shown by Dell two years ago, used standard shipping containers to house servers and other IT gear. The containers are sturdy, relatively cheap and highly portable, but some vendors have found them a little inflexible.
Dell's latest model does away with the container and instead houses 12 standard server racks in two rows within a steel skeletal structure, with a central aisle for servicing. Three or four of the structures can be snapped together depending on how much compute capacity is required, according to Dell.
The power and cooling units are also modular. The cooling units attach to the top of the structure and can be evaporative or water-based, depending on what works best in the local climate. A redundant power supply hooks onto the end.
"We're delivering these units in production to a few customers," said Steve Schuckenbrock, president of Dell's Large Enterprise group.
The systems are sold by Dell's Data Center Solutions group, which also builds custom servers and tends to work with only very large companies. But Dell has been selling some of its DCS servers to smaller enterprises and could eventually do the same with its modular data centres if demand is sufficient.
Server makers including Hewlett-Packard, IBM and SGI also sell modular data centres. Modular data centers have found a niche because they can allow a company to add compute capacity without having to build a costly data centre with a raised floor. One of Dell's customers keeps them in a warehouse. They also pack a lot of computing power into a small space and can be highly energy efficient.
They're one example of how data centres are changing, as companies try to build out private and public clouds while keeping capital and operational costs lower. HP has gone a step further, offering an entire, 24,000-square-foot modular data center that can be assembled on-site from prefabricated parts.
"Infrastructure is going to change as we build out these public and private clouds," Schuckenbrock said. "Data centres are going to evolve dramatically."