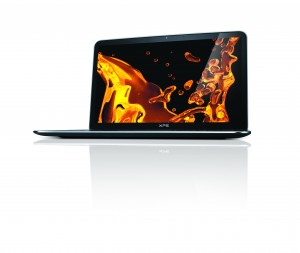 Dell today joined the region's Ultrabook market with the launch of its XPS 13 laptop, which it says solves the 'bring your own device' trend by being a 'prosumer' (professional and consumer) device.
The product, which was first announced at the U.S. Consumer Electronics Show in January, has a 13-inch edge-to-edge gorilla glass display in 11-inch form factor and heat resistant carbon fibre base.
"The increasing mobility of professionals and the design-savvy entrepreneurial market within the Middle East make the Dell XPS 13 a system that is unlike anything else on the market today and an extremely attractive proposition," said Pearce Clune, marketing director, product strategy at Dell EMEA.
"The XPS 13 delivers both performance and sleek design while crossing the realm between work and play, packing powerful technology into a small, portable package. It's the ultimate mobile device for a highly connect region like the Middle East," he added.
Other features include a weight of less than three pounds, a backlit keyboard and a six to seven second boot time.
The Dell XPS 13 is available from today through all leading retailers in the Gulf region at a starting price of AED 4,899 with an Intel Core i5 processor, 128GB SSD hard drive and 4GB memory.