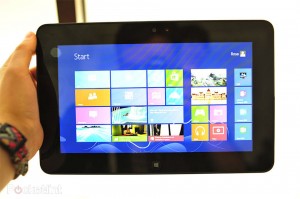 Dell unveiled its first business-focused Windows 8 tablet this week, which aims to offer style and enable productivity without compromising on security.
The Latitude 10 tablet is powered by an Intel "Clover Trail" System on Chip (SoC) processor with 2GB of RAM and up to 128GB of storage. It has a 10.1-inch HD display, front and rear cameras, and weighs 725g with a 2 cell battery.
The tablet includes an array of ports and slots, including a full-size USB 2.0 port, full-size SD memory card reader, docking connector, stereo headphone/microphone combo jack, micro-USB charging port, mini-HDMI and micro-SIM.
Unlike many tablets on the market today, the battery is removable, meaning that users can swap it for a fully-charged spare when it runs out of power. This is particularly important for business users who spend a lot of time on the road.
"If you look at the specs on the Latitude 10 tablet, there are several design decisions that are in there for business," said Kirk Schell, vice president of computing products for Dell's Product Group, speaking to Techworld at a launch event in London.
"We made the decision to put in a full-size USB, so that people could access data from data keys, plug in printers, use external peripherals. Other consumer companies will do micro-USB and micro-HDMI with dongles to get as thin as they possibly can; they'll make productivity trade-offs for the sake of appearance.
"We also put a replaceable battery on the back so that you can carry multiple charged batteries and you can do hot-swapping and you can service the thing if you need to. If you were a consumer company you would probably do a sealed back for appearance."
Various accessories will be available at launch, including a combined Bluetooth keyboard and case, and a docking station with four USB 2 ports, gigabit LAN, full-size HDMI and audio outputs. The docking station is crucial for providing a "seamless tablet-to-desktop experience", said Dell.
Dell has put a strong emphasis on security, with the inclusion of its Dell Data Protection (DDP) solution. Schell said that with Full Disk Encryption or BitLocker, the data is vulnerable as soon as it leaves the device, but with DDP the encryption follows the file, meaning that only authorised users can view it.
The company is also offering optional hardware TPM, fingerprint scanner and smart card reader for use in computing environments like healthcare, government and education, where additional levels of security are required.
News of the Latitude 10 follows the launch of the consumer-focused XPS 10 tablet at the IFA 2012 trade show in August. XPS 10 is an ARM-based, 10-inch tablet that runs Microsoft's Windows RT operating system.
Commenting on this re-entry into the tablet market, following the demise of the Dell Streak last year, Schell said that Windows 8 tablets almost constitute a new category.
"With Windows 8, the ability for people to consume media, to read, to watch movies, to play games – that's all there. But by adding the ability to use mainstream Office applications and Outlook, and to dock to a full-size keyboard, you introduce a creativity aspect that really has not existed yet in tablets," he said.
Steve O'Donnell, ex-CIO of BT, who Dell invited to the launch to give a CIO perspective, added that Windows tablets solve a lot of problems that CIOs are facing today, because they work properly with Windows applications.
"Having worked with a number of colleagues who are having to deal with iPads in the marketplace, what they're finding is that they're sending out Powerpoint slides and then they're having to use Adobe to create a portable document format so that it can be displayed properly on an iPad," he said.
"With Windows you don't need to do that, you just have a single document and it all works."
Dell also plans to offer a full suite of commercial support around the Latitude 10, so that when CIOs introduce the tablet into their environments, they can service and support it the same way they can their whole fleet of Dell products, including servers, storage and switches.
O'Donnell said this is very important from an enterprise perspective, because if an executive's device breaks down while they're travelling abroad, and it can't be replaced with a similar device with the same level of support within a short time frame, then that executive out of the game.
"I would expect you to buy from us because of the overall value and relationship of the company, which is being supplemented by a business-focused tablet," said Schell. "The way we're going to deploy these will give us a really unique value proposition. We think this end-to-end story is really what makes us unique."
The Latitude 10 will be available for sale when Windows 8 launches on 26 October. Pricing has not yet been announced, but Dell said the tablet will come in three versions – "regular", "lite" and "security".
The company has also launched a business-focused Ultrabook, called Latitude 6430u, and a touch-enabled All-in-One desktop, called OptiPlex 9010.