Dubai Electricity and Water Authority (DEWA) has signed a Memorandum of Understanding (MoU) with 3M, an international company specialised in Research and Development (R&D), to exchange and share knowledge and expertise in anticipating the future and developing disruptive innovation in DEWA's work.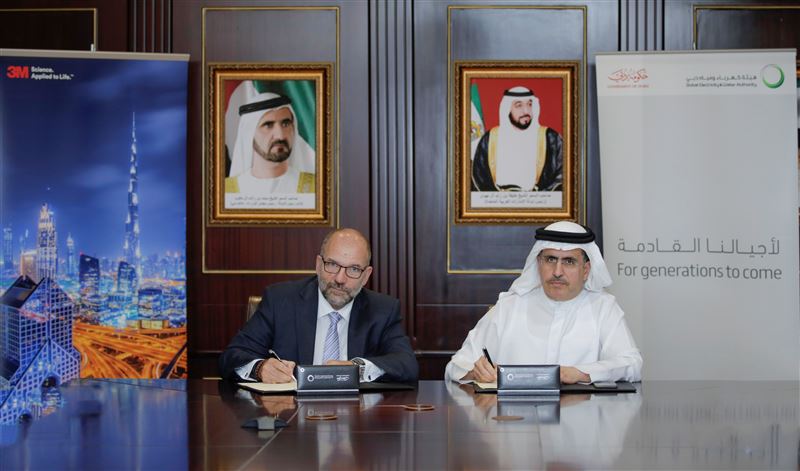 The MoU was signed by Saeed Mohammed Al Tayer, MD & CEO of DEWA, and Robert Nichols, Managing Director of 3M in the Middle East and North Africa.
Under the partnership, the two organisations will cooperate in several areas including anticipating and leading transition in new technologies, supporting and encouraging disruptive innovations by exploring investment opportunities to develop new services, and support promising start-ups in areas expected to shape the future.
The deal will also cover, Internet of Things (IoT) and activities that foster innovation such as Hackathons. The two sides will work together to benefit from international experiences and expertise in energy and sustainability solutions in buildings to reduce energy use. According to the MoU, the two parties will develop and implement pilot projects and cooperate in R&D to raise safety standards in the workplace.
"At DEWA, we strive to achieve the vision of our wise leadership to anticipate the future, and innovate and employ new technologies to achieve the best results. Our strategies and initiatives are in line with national plans and strategies. These include the UAE Centennial 2071, which is a long-term government plan to prepare the UAE and young Emiratis for the future, the UAE Artificial Intelligence Strategy, to create productive, creative, and innovative environments, through the investment and application of AI technologies and tools, the Dubai Clean Energy Strategy 2050, to diversify the energy mix and provide 75 percent of Dubai's total power output from clean sources by 2050, and the Dubai 10x Initiative, which mandates the Government of Dubai to be a global leader that is 10 years ahead of all other cities through government innovation and reformulation of traditional work mechanisms," said Al Tayer.
Al Tayer also noted that the partnership with 3M will enhance DEWA's competitiveness and excellence in the fast-paced technological developments.
"It is with great pleasure that we join forces with DEWA to successfully and effectively bring our innovations to life in the UAE. Together, we have agreed to work on preliminary projects and cooperative studies that will improve sustainability in the energy sector in Dubai. 3M enjoys deep roots within the global energy sector, and we are bringing our expertise to the UAE by collaborating with entities who, like us, are driven to discover new ways to harness the earth's energy and optimise valuable natural resources. We are confident that the partnership will enhance collaboration between public and private entities and provide innovative solutions," said Nichols.