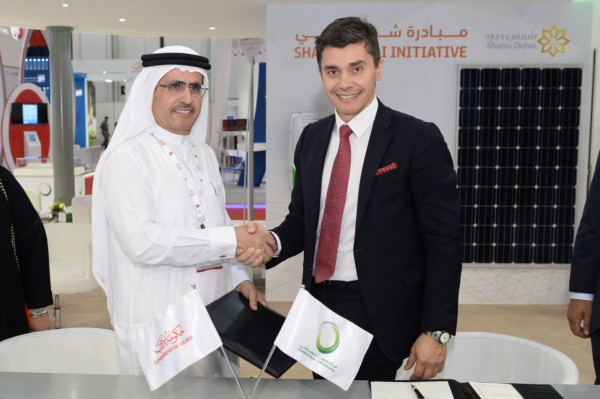 Dubai Electricity and Water Authority (DEWA) has signed a Memorandum of Understanding (MoU) with SAP.
The MoU was signed at the Dubai International Government Achievements Exhibition (DIGAE) 2016, from 11-13 April 2016 at the Dubai International Convention and Exhibition Centre, which is being held under the patronage of HH Sheikh Mohammed bin Rashid Al Maktoum, Vice-President and Prime Minister of the UAE, and Ruler of Dubai.
According to both parties, the agreement supports DEWA's efforts to improve its services to the highest levels of availability, reliability and efficiency.
The MoU was signed by HE Saeed Mohammed Al Tayer, MD and CEO, DEWA; and Steve Tzikakis, Senior Vice President and General Manager for South Europe, Middle East and Africa, SAP. DEWA's Vice Presidents, staff, and the media were also present.
The MoU enhances cooperation in innovation, the infrastructure for smart meters, electric vehicle charging stations, the Internet of Things (IoT), smart home applications, and Big Data analysis. The two sides will also exchange knowledge and expertise.
"The MoU translates the strategic partnership between DEWA and SAP, and underlines DEWA's commitment to cooperating with local and international organisations to adopt best practices in government work. The MoU also enhances DEWA's role in supporting sustainable development, which contributes to improving our services and achieving the happiness of our stakeholders," said Al Tayer. "The MoU with SAP supports our efforts to achieve the Smart Dubai initiative, launched by His Highness Sheikh Mohammed bin Rashid Al Maktoum, Vice President and Prime Minister of the UAE and Ruler of Dubai, to make Dubai the smartest city in the world. It will accelerate the implementation of our three smart initiatives: Shams Dubai, Smart Applications and Meters, and the Green Charger, to effectively contribute to the sustainable development of Dubai, and deliver innovative services to our customers by providing smart, real-time, and seamless services, anytime, anywhere, to make society happier."
Meanwhile, Tzikakis said that they are honoured to be a strategic partner of DEWA and participate in its visionary efforts. "We at SAP are proud to sign the MOU at the Dubai International Government Achievements Exhibition 2016, a truly unique event setting the benchmark for public service excellence. Together with DEWA, SAP has the opportunity to influence and shape the future of Dubai and the United Arab Emirates," he said.
"DEWA is at the forefront of the utilities industry worldwide and a key driver of the Smart Dubai vision. We are very proud to enter into a strategic partnership with DEWA; having the opportunity to influence the lives of the citizens of this great city," said Tayfun Topkoc, Managing Director, SAP United Arab Emirates.