The Dubai Electricity and Water Authority (DEWA) has recently signed partnerships with three start-ups to work with them in the 4th Dubai Future Accelerators Programme.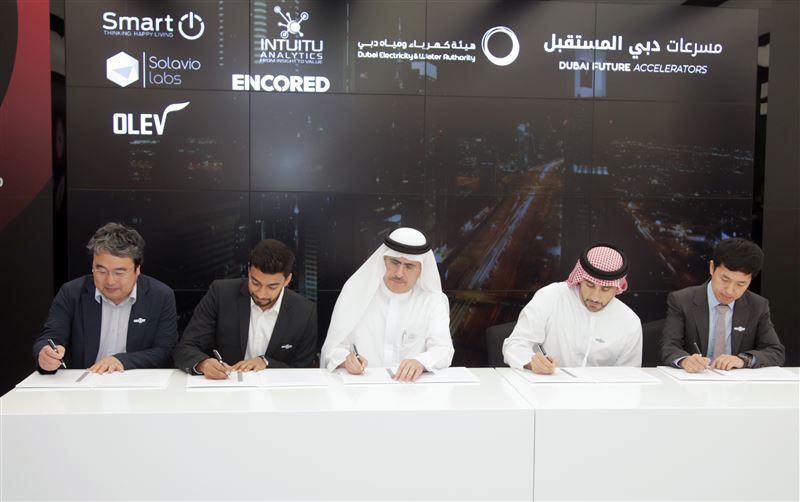 The Programme is organised by the Dubai Future Foundation, with the theme 'One Team Co-Creating the Future.' It aims to strengthen the UAE's position, enhance its role as a leading hub for shaping the future, and make it a platform to test solutions and technologies that shape a better tomorrow for humanity.
Through its participation in the Dubai Future Accelerators programme, DEWA aims to continue to explore and develop innovative and sustainable solutions to its challenges.
DEWA has selected three start-up companies based on the future challenges. The MOUs aim to strengthen cooperation to find innovative solutions in Artificial Intelligence (AI), electrical load control and the Internet of Things (IoT). The MoU also aims to transform the DEWA office at the Dubai Future Accelerators premises in Emirates Towers, into a smart office based on IoT, as well as test the two self-cleaning devices for solar power panels.
"DEWA participated in the 4th Dubai Future Accelerator Programme to develop new technologies that help improve the quality of electricity and water services. In this round of the Dubai Future Accelerator Programme, we will cooperate with the three selected companies to adopt innovative solutions that manage the accelerating changes and address the future challenges in the main sectors of DEWA's work," said Saeed Mohammed Al Tayer, MD & CEO, DEWA.
DEWA has participated in the three rounds of the Dubai Future Accelerator Programme, which concluded with 11 MoUs and 5 innovative pilot projects. DEWA is currently working on the completion of 6 new projects related to its services and its digital transformation and smart infrastructure.