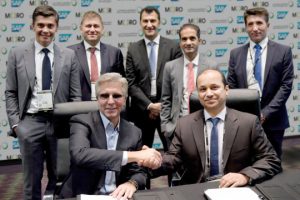 Dubai Electricity and Water Authority's (DEWA) subsidiary, Data Hub Integrated Solutions (MORO), has signed an MoU with SAP to build closer ties to develop and deliver applications, solutions and services based on SAP platforms for cloud services, storage, and management of data for companies in the GCC.
The MoU signing took place at SAP's Sapphire Now exhibition and conference in Orlando, Florida.
The deal also covers cooperation in various areas including research and development within the IT and energy domains. In addition, the partnership will see joint efforts for creating solutions through MORO and accelerating digital solutions in public and private sectors in the UAE and the region.
The MoU was signed by Marwan Bin Haider, executive vice president of innovation and the future at DEWA, and SAP's CEO Bill McDermott.
"To support the National Innovation Strategy, launched by His Highness Sheikh Mohammed bin Rashid Al Maktoum, Vice President, Prime Minister and Ruler of Dubai, to make the UAE one of the most innovative countries in the world, and in support of the Smart Dubai initiative, which was launched by His Highness, DEWA has launched several promising programmes, initiatives, and projects to achieve this goal, including MORO, which specialises in providing information storage services, cloud computing, and IT for the public and private sectors in the UAE and the region," said Saeed Mohammed Al Tayer, managing director and CEO of DEWA.
"To diversify DEWA's investment portfolio, we have established MORO, which provides integrated data centre solutions to utilise the latest disruptive technologies and keep pace with the fourth industrial revolution, to deliver secure, reliable, and scalable cloud solutions that will support the UAE's digital transformation, which is aligned with the UAE Vision 2021 and the Smart Dubai initiative," added Al Tayer.
MORO plans to collaborate with the SAP partner ecosystem to enable partners to offer solutions running on the private SAP HANA Enterprise Cloud on MORO Cloud Hub. MORO will soon have access to SAP Co-Innovation Labs, with the aim of prototyping new solutions and digital business models, especially around optimising energy and water consumption for DEWA customers.