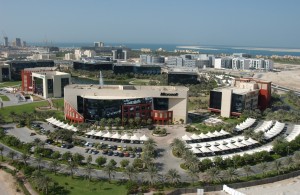 The Dubai Internet City cluster continued to grow in 2011 despite the dire economic outlook, says Malek Al Malek, MD at DIC and Dubai Outsource Zone.
"2011 was another good year for us. Despite the challenges posed by the economic struggle in parts of Europe and other regions, we continued to grow on 2009 and 2010," Malek said.
"We gained 166 new customers to the ICT cluster. That's a rate of 13 every month. I also think we have expanded more than 60 companies, which means on average five ICT companies expand their operations in Dubai every month. I think these are very positive numbers," he added.
Malek said that he expects this rate of figures to continue in 2012, and that competition is not an issue with DIC.
"I always say we don't feel competition, especially within the UAE, because I think all clusters are focused on their certain productivities. We're very focused on ICT and are the largest ICT hub in the whole of the Middle East," Malek said.
"In this country I think we complement each other and the activities around the region actually are complementing each other. For example, if an IT company wants to do something in Saudi and the Saudi regulation will allow this company to come and perform certain contracted services, that means that they complement the business at our headquarter in Dubai. Most of the efforts within this region are towards the development of the nations and the interest of the industry. When the industry grows locally or regionally it means something good for us," he added.
It is for these reasons, Malek said, that DIC has no plans to change the way they operate to attract more customers in 2012, and the existing financial structures are already well sep up for companies of all sizes.
"I think we will continue with our strategies because they're strategies that we have implemented very successfully. It has been successful in good times and bad times. Also we have different plans with different business partners depending on their requirements. The offerings that we have are comprehensive to cover everyone from the start-up to the multinationals," Malek said.
"The way we structure our products are based on the size and commitments of our business partner. The way we build our products are based on the company activity, not on the real-estate market. We do it based on the industry requirement and industry attainability. So, for example, we know how much a medium-sized ICT company can afford to lease a particular type of office," he added.
The tough economic forecast in Europe actually can lead to more businesses for DIC, Malik said, and influences its plans to target more medium-sized companies in 2012.
"In the last three to four years I think we had a great number of medium-sized companies, especially from Europe, entering the market. With the struggles these companies face in their own regions, like Europe, we expect this to continue. I also think small and medium ICT companies that are located close to us will be trying to enter the market," Malek said.
As well as welcoming a high number of new companies to their cluster, 2011 was also a successful year for DIC after the announcement of its new incubation centre. The Majid Bin Mohammed Innovation Center in5 will be the first incubation within the ICT cluster and will promote entrepreneurship and technical innovation in the UAE. It will aim to accelerate the take-off of new ICT initiatives through the creation of an enabling ICT ecosystem.