Most people would have had their lives thrown into disarray after having both their legs amputated in a mountain-climbing accident at the age of 17.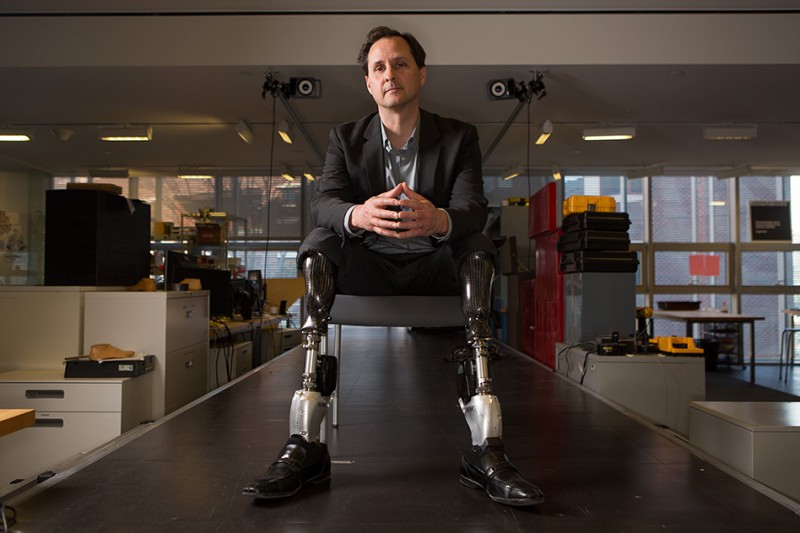 Instead, the indomitable Hugh Herr, a professor at MIT, refused to view his body as "broken" after he suffered severe frostbite on a climbing trip in New Hampshire, reckoning that technology might be broken but a human being can never "break".
Speaking at a lecture entitled 'The New Era of Extreme Bionics' on Monday at Abu Dhabi's Al Bateen Palis in the presence of His Highness Sheikh Mohamed bin Zayed, Crown Prince of Abu Dhabi and Deputy Supreme Commander of the UAE Forces, Herr discussed his motivation to develop technology for the elimination of his own disability, and ultimately, that of others.
Herr's efforts have resulted in the next generation of bionic limbs, robotic prosthetics inspired by nature's own designs that allow us to run, climb and dance. Innovative technologies are helping merge bodies and machines, and the scientist is confident that the new bionics will help eliminate disability this century.
Herr's vision and pioneering talent were on display during Monday's lecture, such as advances in genetics, artificial intelligence, regenerative and reconstructive medicine, and robotics, are "beginning to enable more connections between the human body and machines," Herr said.
"Society is at the threshold of a new age when machines will be intimate extensions of the human body. Such a merging of body and machine will not only improve the quality of life for disabled people but will also allow persons with normal physiologies to experience augmented capabilities – cognitively, emotionally and physically. There soon will be a world where technology will merge with our bodies to forever change our concept of human capability," he added.
Herr, who co-directs the Centre for Extreme Bionics at the MIT Media Lab, says his lab is working on "exoskeleton-like devices," which he predicts "everyone will wear in the future to protect their limbs during activities like running." In a version made for people who aren't missing limbs at all, the exoskeleton actually augments walking, applying torque and power as needed.
His team is also working on a new type of limb that would receive not only commands, but sensations, from the central nervous system. This principle, which Herr calls "neuro-embodied design," involves extending the human nervous system into synthetic body parts. Last year, a fellow mountain climber and old friend of Herr's, Jim Ewing, became the first patient to undergo the new amputation process and get fitted with a cyborg-like synthetic limb.
He said over half of the world's population suffers from some form of cognitive, emotional, sensory or motor condition, and because of poor technology, these conditions often result in disability and a poorer quality of life. "Every person should have the right to live life without disability," he says, adding that "disability can now be transcended through technological innovation."