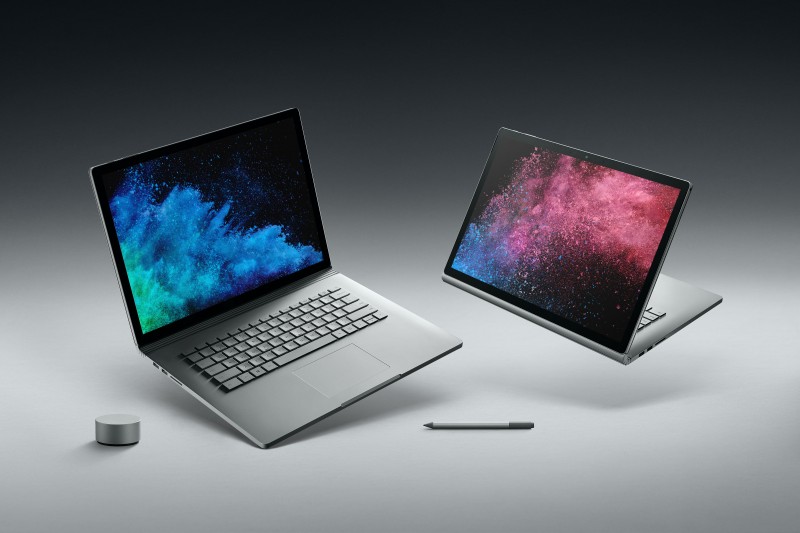 Microsoft's follow-up to the original Surface Book is a new heavyweight in the high-end laptop space, but comes at a price.
The 13.5-inch version is priced at $1,199, and features an Intel Core i5 processor with 8GB or 16GB of RAM. The 15-inch version packs an 8th Gen Intel Core i7 processor, with options for either 256GB, 512GB or 1TB of storage.
Two-in-one tablet-laptop obsessives will be delighted – the Surface Book 2's tablet is extremely lightweight, which gives it a classy, professional feel, with a PixelSense display delivering near-4K picture quality.
Some may deem it a luxury feature, but the Surface Book 2 has an undeniable edge over Apple's MacBook range through its touch screen capability, which definitely adds to its likeability.
The Surface Book 2's typing experience is extremely smooth. If you'd rather go incognito when knocking out that dreaded 10-page report in Starbucks, then good – the keys are easy on the touch and the ears.
In terms of design, the Surface Book 2 barely differs at all from the original Surface Book, but that's not a bad thing. Although unorthodox, the crinkled hinge is more than stable enough.
Battery usage isn't at all bad – a mix of app usage means the Surface Book 2 can last around 11 hours on one charge.
However, Microsoft has chosen to exclude the Surface Pen from the package, and that'll cost users an extra $100 for the privilege of having its digital ink capabilities as part of the package. This is something of a disappointment, and would've been a nice addition given the considerable potential of the lightweight detachable tablet.
What could represent Microsoft's biggest coup with the Surface Book 2 is the upgrades it has made to entice and accommodate gamers. It's added an Nvidia GTX 1060 graphics card and Xbox Wireless support, which has now made it a realistic option for hardcore gamers.
Ultimately, the Surface Book 2's most prohibitive aspect is pricing. At a whopping $2,499 for the 15-inch model, and starting at $1,199 for the 13.5-inch model, those choosing to go this route for their laptop need to have deep pockets.
There's absolutely no denying that the range guarantees a great device, whatever size you decide to opt for, but asking over $1,199 for a laptop means Microsoft has set the bar high in terms of user expectation.
Verdict: There's no denying that the Surface Book 2 will break the bank for a two-in-one laptop. However, Microsoft has made the right amount of changes and brought the line up to a standard that ultimately makes it worth the money. Solid performance, slick design and smooth keys make it worth forking out for.