If you're looking for a new work or personal premium laptop that performs well is lightweight and edgy then HP's Spectre could just be the device for you.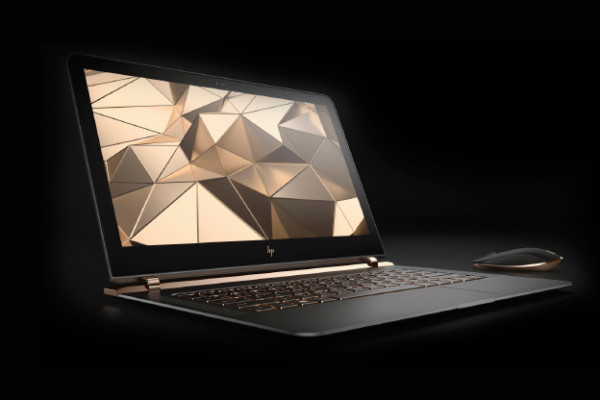 Dubbed by HP as the 'world's thinnest laptop,' the device is only 10.4mm thin and weighs at 1.1 kilograms. The build and design of the laptop is definitely noteworthy. It has a svelte look, black matte casing and has a shiny gold detailing on the hinge and back edge. However, some might be disappointed that the hinge prevents the screen from tilting back more than 120 degrees. The back also houses the USB-C ports and headphone jack.
It has a 13.3-inch 1080p, non-touch, FHD screen with a .04-inch layer of Corning Gorilla Glass 4 on top of it, which brings a very clear and vibrant display. The vendor noted that despite being one of its high-end computing product, Spectre was not made into a touchscreen device because it would only make the display thicker, so it was omitted in the pursuit of thinness. It sports speakers from Bang & Olufsen, which disappointingly produces an underwhelming audio playback for a premium device. Nevertheless, the device's traditional functions hit the right marks. The keyboard gives really tactile responses, comfortable to use, and if needed, it also has backlighting. The trackpad is smooth and tracks very well.
In terms of performance, the laptop is powered by an Intel Core i7 processor, 8GB RAM and a 256GB SSD. The device is very snappy and powerful enough to handle productivity work. It can easily multi-task between a number of apps – Word, Excel, web browsers and so on – it can even handle image editing with Photoshop without any issues. However, when work gets intensive the bottom of the laptop gets uncomfortably warm. Fortunately, Spectre has been designed with a hyperbaric cooling system, which draws in cool air and directs it to the processors letting the machine continue to function at peak performance while preventing it from overheating. The fans in the hyperbaric system can be loud at times but that's not necessarily a deal breaker.
The Spectre relies on USB-C for all of its wired connectivity. HP has installed three USB-C ports on the device. Having three ports is definitely a plus point but because USB-C is still so new, one needs to bring along adapters to plug anything into the machine.
The machine has a modest battery-life lasting up to around seven hours of full usage – video and audio playback and other activities.
With its impressive performance, quality display and aesthetically pleasing design the laptop has a lot going for it. Despite a few minor flaws, Spectre is still a solid choice for anyone who wants a premium and portable machine.