The Asus ZenPad 10 isn't going to win any outstanding performance awards, but if what you're after is a budget, convertible tablet with a decent sound system, then this is the device for you, writes Glesni Holland, Deputy Editor, CPI Media Group.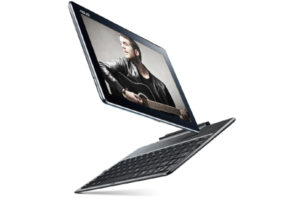 The 10.1-inch screen and 1,280 x 800-pixel resolution puts Asus above some of its competitors, such as the Samsung Galaxy Tab A, which supports a 9.7-inch screen with a slightly lower resolution of 1,024 x 768 pixels. Asus' 'Splendid' app also allows users to adjust image colour, brightness, contrast, and sharpness of the display, as part of their Tru2Life technology.
Where the ZenPad let's itself down is its camera. The 0.3MP front camera lagged, meaning there was a slight delay before it was able to capture a selfie – albeit, a poor quality selfie at that. Don't fall for the 'beautification' mode that is included within the camera app; according to the company, it balances facial features, softens complexions and removes skin blemishes to create flawless photos — all in real time (which is debatable, considering the pre-selfie delay mentioned above.) The front camera's only purpose should be for video calling.
The keyboard is equipped with DTS-HD Premium Sound, which claims to transform stereo audio into virtual surround sound, and considering the price and size of this device, it actually achieves this reasonably well. While it may not suffice as a primary music player, it is perfectly adequate for a good quality Netflix experience.
The tablet alone weighs a total of 510g, which makes it ideal for on-lap usage. It also doesn't feel top heavy when connected to the keyboard. The size of the keyboard and touchpad mean it is useful for replying to emails and posting on social media, but it probably wouldn't be appropriate to try and compose a document of great length, especially if you are used to operating on a laptop-sized keyboard.
Despite the particularly disappointing fact that the keyboard and tablet need to be charged separately, the tablet's battery life is impressive, and one of the major perks of this device. Predicted to last eight hours, it was able to withstand steady usage (browsing, social media, apps, and a few episodes on Netflix) and still be operational after a full day.
However, the processor wasn't the best at coping with certain tasks on some of the apps. Similar to the delay on the camera app, there was also a significant five second delay when trying to 'undo' artwork or notes. The tablet runs on a standard quad-core processor, but has failed to bring itself up to date by still using the Android 5.0 Lollipop operating system, whilst its competitors take full advantage of Marshmallow's nifty features.
So all in all, while being slightly outdated on the software side, this tablet is ideal if you're after a sturdy device with an attachable keyboard, good speakers and a vibrant display, but don't expect show-stopping camera functions or a speedy navigation system to be included in this budget purchase. The price for the tablet and keyboard combined retails at approximately $250.