An entry level device, DTEK50 offers BlackBerry's range of security, privacy and productivity matched with Android's latest interface features.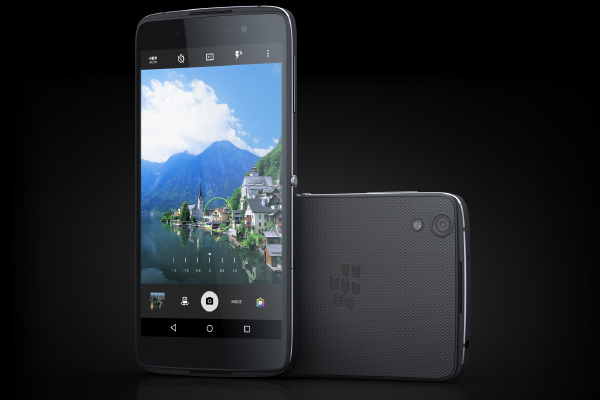 BlackBerry's DTEK50 sports a pretty straightforward design as it is made of plastic with a faux-metal chamfer running around the edge. Although it might not win any awards design-wise, the device does feel durable and light weighing at only 135 grams. It's also thin, at 7.4mm, and compact for a 5.2-inch phone. The dimpled, rubbery rear side of the smartphone is quite an unusual detail but it makes the device easy to grip.
The BlackBerry DTEK50 also has a scratch and smudge resistance feature and its display runs at 1080p, which enables it to provide users with nice and vivid images, and crisp texts. It runs Android 6 Marshmallow – the latest version of Google's operating system. The device packs an octacore Qualcomm Snapdragon 617 processor, clocked at 1.5 GHz, and backed by the Adreno 405 GPU and 3GB of RAM. The smartphone's very snappy when opening, closing, and switching between apps.
DTEK50 only comes with a 16GB of on-board storage but the device does offer expandable storage via microSD card up to 256 GB, so for users who are big on downloading apps and capturing media, it will be best to purchase a microSD card.
It is equipped with dual front- and rear-facing speakers, which gives out good sound quality that doesn't get distorted even when it is turned up to the highest volume. On the battery side, the DTEK50 comes with only 2,610 mAh unit, which is quite small when compared to other similar smartphones in the market. It lasts up to about a day of light usage and around eight to nine hours of heavy usage.
The smartphone comes with a 13MP rear camera, with a f/2.0 aperture, phase detection auto focus, and a dual LED flash, along with an 8MP front-facing shooter, with a f/2.2 aperture. The camera doesn't have a lot of bells and whistles but it produces decent images especially when shot in areas with good lighting. However, in low-light conditions the image quality gets really grainy, which is not uncommon in entry level devices.
Having said all this, the big selling point of the DTEK50 isn't the design, the camera, or the specifications. It's all about the software and the security that comes along with it. A big chunk of the device's security features comes from the DTEK application. With DTEK, the user's data is encrypted. They can also control the permissions of individual apps and what they are and aren't allowed to access.
It also has a factory reset protection feature, so in the event that the device gets lost or stolen and gets reset, it won't be usable anymore unless it gets verified through a Google account info.
Another notable feature of the device is the BlackBerry Hub. The BlackBerry Hub is a one stop shop for all notifications. It aggregates your BBMs, text messages, emails, phone calls, and social media, all in one place, making them very convenient for users. Some apps tend to render slowly in the Hub but it seems like a minor issue in the grand scheme of things. However, for a device that's being dubbed as 'the most secure smartphone' in the world, it is very curious that there's no fingerprint scanner on the device as that is now a very common security feature in smartphones today.
All in all, the BlackBerry DTEK50 is a solid entry-level Android phone that puts security front and centre without overshadowing the core Android experience.