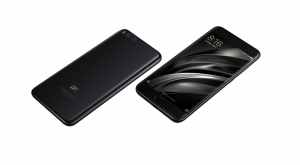 The latest top range device from the Chinese firm packs in features that can go head to head with all the big names at a more pocket-friendly price.
The Mi6 is Xiaomi's latest flagship device boasting several nifty features. The first aspect you notice is the look and feel of the smartphone. Glass panels on both sides with a stainless-steel frame give it a premium feel that's on par with the Galaxy S8 and the glossy iPhone 7.
On the front is a 5.15-inch 1080p IPS LCD display, which offers accurate colour reproduction as it has a LCD panel. Xiaomi has tweaked the screen to filter high-energy blue light that makes the display ideal for long hours of media consumption. However, the glass panel at the back makes the device a finger print magnet and slippery to hold.
The smartphone is equipped with a 12MP dual back camera as is the trend with flagships today. It even offers a 'Portrait' mode just like the iPhone. Images taken in this mode are a hit-and-miss affair – great when you get it right and too out-of-focus when the distance from the subject is insufficient. Overall image quality is decent and you do get HDR mode, Manual controls and even a Tilt Shift mode.
All Xiaomi phones run a customised version of Android called MIUI. The Mi6 comes with version 8.5 of MIUI, which is based on Android 7.1.1. You get all the goodness of Android 7.1 along with some attractive MIUI customisations. An example is 'Second Space', which allows you to create an alternate login with a different pattern PIN or Fingerprint. This takes the user directly into the secondary home screen or 'space' as the firm calls it. In the simplest possible terms, 'Second Space' gives you the sense of having two devices in one with its own wallpaper, apps, images, music and so on. No one would ever be able to access this area of the phone unless they have access to the secret code.
Battery life is decent on the Mi6, you should be able to get through a day even if you are a relatively heavy user. Qualcomm's Snapdragon 835 enables the device's performance to be smooth. However, we did notice some lag when getting into the 'Second Space'. High-end games run effortlessly thanks to the 6GB RAM and Adreno 540 GPU.
With the latest hardware and a premium build, the Xiaomi Mi6 is definitely competing with the likes of S8s and iPhones. One of the drawbacks is the software appeal within the general public. Maybe, Xiaomi should launch a Google edition of their flagships, offering customers a choice of pure stock Android or the MIUI version that has several clever tricks up its sleeves.