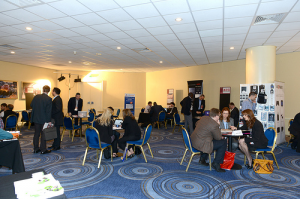 More than 6,000 pre-scheduled meetings took place at DISTREE EMEA 2013, marking a new record for the annual channel event.
More than 140 brands were represented, a post-event release said, and they met with channel executives from the region's leading distributors, retailers and e-tailers. Thousands more informal meetings took place over the course of the three-day event in Monaco.
"We want to thank all the brands and the 1,000-plus delegates that made DISTREE EMEA 2013 such a memorable experience," said Farouk Hemraj, CEO and Co-Founder, DISTREE Events.
"The event continues to grow and is now a 'must-attend' event for buyers working in the EMEA ICT and CE sector. This event allows channel partners to meet vendors they already work with and also identify emerging brands and hot new product categories."
DISTREE claims that it is far removed from a traditional trade show. As well as making one-on-one meetings possible, it sports a "powerful" conference programme, workshop sessions, channel awards and professional networking opportunities. This year also featured a series of "2013 Directions" workshops.
Speakers at the event included representatives from Moor Insights, VIA, Ocean Solutions, Sightline Group, Kiki Lab, and channel consultants Frederic Lestringant and Ryan Mackey.
"Each market in the EMEA has its own unique characteristics, and DISTREE EMEA is an opportunity for channel executives to take a wider look at how the ICT and CE industry is changing, and the impact this is having on routes-to-market," said Hemraj.
DISTREE 2014 is scheduled to take place in Monaco from February 11 to 14, 2014, Hemraj added.