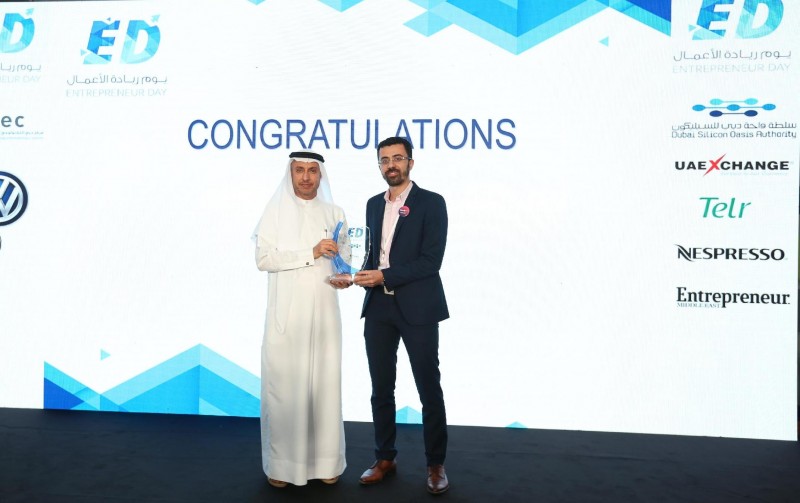 Dubai Silicon Oasis Authority (DSOA) the authority for the free zone technology park, has announced the winner of the fourth edition of its Entrepreneur Day pitch competition its Dubai Technology Entrepreneur Centre (Dtec), the largest hub of its kind in the Middle East.
Providing a unique opportunity for 'technopreneurs' to connect with investors and stakeholders within the ecosystem, Entrepreneur Day 2017 drew the participation of over 80 exhibiting startups. The two-day event is running on November 15th and 16th.
Headline speakers included Walid Mansour, Partner and Chief Investment Officer at venture capital firm Middle East Venture Partners, Nina Zandnia, Dubai-based fashion entrepreneur and TV personality, Sirish Kumar, Co-founder and CEO of online payment gateway Telr, Promoth Manghat, CEO of UAE Exchange, and Haytham ElMaayergi, Global Head of Transaction Banking at Abu Dhabi Islamic Bank.
Day one kicked off with a conference addressing topics such as the future of investment in MENA, growing trends in e-commerce, and creating a smart government on Blockchain.
Commenting on the event, Dr Mohammed Al Zarooni, Vice Chairman & CEO, DSOA, said, "As a technology-focused free zone, we are committed to supporting the development and expansion of the SME segment in the UAE that currently accounts for 86 percent of the total private sector workforce in the country. In line with our dedication to playing an integral part in achieving the goals of the National Agenda of the UAE Vision 2021, we seek to assist SMEs in increasing their contributions to the country's GDP with the ultimate objective of driving the diversification and growth of the national economy."
He added, "We consider Dtec's Entrepreneur Day as an annual celebratory gathering of the brightest minds from the global startup landscape at the largest tech incubation hub in the Middle East."
Six shortlisted applicants presented their business plans to a live audience and judging panel as part of the startup pitch competition. Dr Mohammed Al Zarooni presented the award to the winner, Abdelrahman Elgamal, Founder of Friendycar, who walked away with a prize worth over AED 125,000 – including AED36,000 in cash, company setup within Dtec and financial advisory sessions with The Scalable CFO – a team of finance professionals who cater to the financial management needs of emerging businesses.
Expressing his delight at bagging the top prize, Elgamal said, "My team and I came in with immense enthusiasm, and are determined to make the most of our win through strategically adjusting our business plan based on the feedback received from the judging panel. I am confident that the enhancements will go a long way in driving our expansion and help our fledgling company achieve its full potential."
A wholly owned entity of the government of Dubai, DSOA operates as a free zone technology park for large enterprises as well as medium and small companies looking to set up their offices in Dubai.