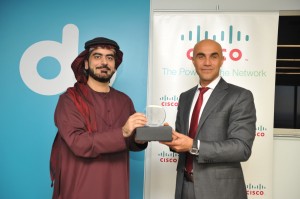 du announced on Wednesday that it will deploy the foundation layer for its virtualised infrastructure based on Cisco's Unified Computing Systems (UCS) and Data Centre Switches.
The move is aimed at bolstering du's position as a cloud-based security solutions provider in the Middle East, du said.
"Making our first step toward virtualisation and consolidation is a part of our vision towards cloud-based security services," said Walid Kamal, Senior Vice President, Technology Security, Risk and Fraud Management, du.
The Unified Data Centre unifies storage, networking, virtualisation and management into a single platform. This offers much greater simplicity and what du calls "business agility". The solution radically reduces the number of devices requiring set-up, management, power, cooling and cabling.
Du's UCS platform will incorporate VMware solutions, realising a full virtualisation process while offering extra manageability, security and cost savings, among other benefits, du said.
The new virtualised environment that du is creating will also enable the firm's Technology Security, Risk and Fraud Management team to build a scalable and "efficient" hosting environment for its security management systems, du said.
"We now intend to move towards cloud-based architecture for all our internal and external security service offerings, addressing all our key security requirements, achieving operational efficiency, gaining significant competitive advantage and subsequently reducing the time to market," said Kamal.
Cisco praised du's decision to move toward a cloud-based architecture, saying that next-generation data centres needed to be more agile and efficient.
"The data centre is transforming into an agile and efficient networked environment providing access to every device to any content, everywhere," said Rabih Dabboussi, Managing Director, Cisco UAE.