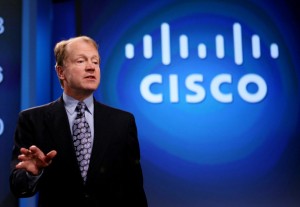 Cisco CEO John Chambers has reiterated the company's ambitions to become the biggest company in IT after the firm posted higher revenue and profit in its fiscal second quarter.
For the quarter ended on January 26, Cisco posted revenue of US$12.1 billion, up 5 percent from a year earlier.
Its profit grew even more from the previous year's quarter, with net income rising 44 percent to $3.1 billion from $2.2 billion. Second-quarter earnings per share rose to $0.59, up from $0.40 a year earlier. However, those figures included tax benefits of about $926 million from a settlement with the U.S. Internal Revenue Service and the reinstatement of a federal R&D tax credit. Excluding most one-time items, profits grew 6.2 percent. Analysts had forecast that Cisco would have earnings per share of $0.48.
Cisco is in the midst of a retreat from the consumer sector while it aims for a leading role in enterprise and cloud computing, competing with giants such as IBM and HP. In December, the company told financial analysts that it hopes to double its software revenue over the next three to five years and also expand its managed services and consulting business.
Cisco's annual software revenue is about $6 billion.
Last month, the company said it would sell its Linksys home networking division to Belkin, a smaller competitor in that segment. The move came as no surprise after Cisco killed its Flip video camera and started retreating from its home videoconferencing business in 2011. The company still hopes to reach into consumers' homes with gateway boxes that it sells to service providers.
Cisco is also seizing a growing piece of the mobile infrastructure market. After the company announced its fiscal first-quarter earnings in November, Chambers said Cisco would build small cellular base-station equipment in addition to carrier Wi-Fi gear.
On a conference call following the financial report on Wednesday, Chambers said he thinks the world economy is in a "soft recovery."
"The tone is cautious optimism," Chambers said. However, customers in Europe are still under pressure, he said.