Al Nabooda Automobiles, the sole distributor of Volkswagen in Dubai and Northern Emirates, and Dubai-based ekar have announced a partnership to offer "ultimate mobility solutions to consumers in the UAE."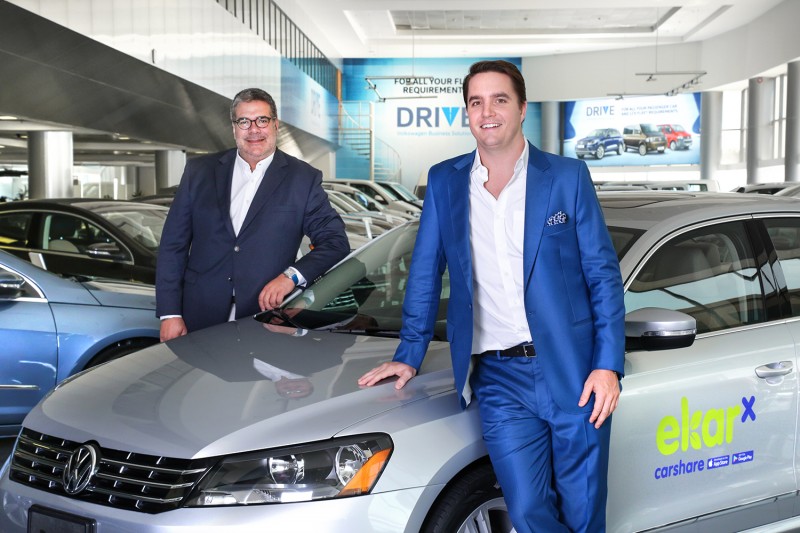 The agreement will see an initial insertion of 100 Volkswagen Passat and Jetta models into the ekar fleet called ekar X.
Al Nabooda Automobiles – Volkswagen is the first automotive retailer to embrace smart mobility solutions in the Middle East region, and the flexible pricing scheme for ekar X offers consumers daily, weekly, and monthly on demand rentals.
ekar formally launched in January 2016 with Etihad Airways in Abu Dhabi, later with Emirates Airlines, and also in January 2017 with the Road and Transport Authority of Dubai (RTA) with 100 cars spread across the Emirate of Dubai. The company uses smart access technology, providing a network of vehicles for on-demand rent in the UAE, and enables users to book available cars via its mobile app and website – providing a cost-effective alternative to daily and monthly rentals by offering a "pay-by-the-use" pricing scheme.
According to Navigant Consulting, global carsharing services revenue approached $1 billion in 2013 and is set to grow to $6.2 billion by 2020, with over 12 million members worldwide. The carshare services, provided by ekar, give UAE consumers all the benefits of car ownership without the high fixed costs including purchase, insurance and maintenance.
Thierry Seys, general manager, Al Nabooda Automobiles said, "We strongly believe in the future of carsharing, and consider the partnership with ekar as a strategic one for Al Nabooda Automobiles and Volkswagen. Carsharing has a very positive effect on mobility, the economy, the end user and the environment by reducing carbon footprint. We are looking forward to seeing the results of the vehicles delivered."
The agreement with Al Nabooda Automobiles – Volkswagen will see ekar's fleet increase by up to 300 vehicles over the course of this initial phase.
"Since our launch at the start of the year we have seen more than 30,000 trips booked which was a strong milestone," said Vilhelm Hedberg, CEO ekar Middle East. "The agreement with Volkswagen will not only provide a wider choice of ekars with more luxurious models on offer to the public, but further boost Dubai's transportation infrastructure. We are delighted to have such an innovative and forward-thinking partner in Al Nabooda Automobiles – Volkswagen and look forward to a long and strategic alliance."