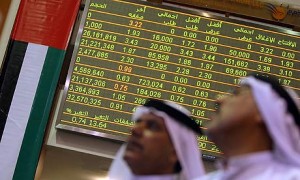 Dubai Financial Market (DFM) has harnessed the power of Microsoft Windows Azure to host a visually compelling, streamlined and innovative Securities Dashboard that provides real-time financial information to the exchange's customers, wherever they are in the world.
The mission-critical application leverages HTML 5 in addition to the Cloud, which allows DFM to engage with customers on the very latest generation devices, such as smartphones and tablets as well as traditional PCs in a very scalable and cost effective way.
"The Securities Dashboard offers users an overview of all important market indicators, in a clutter-free and customisable package," said Michael Mansour, director of developer platforms and technologies, Microsoft Gulf. "The dashboard offers light-weight real-time market data and interactive market graphs via SVG technology using HTML 5 which avoids the need for browser plugins. The use of Azure with its familiar development tools and underlying infrastructure has meant that DFM can respond faster to customers' needs to deliver the crucial information they need for their trading activities."
According to DFM, the use of Windows Azure, Microsoft's cloud services development which hosts and manages the application environment, allows DFM to host and run the app on a dynamically scalable platform without capital expenditures and minimal operational cost. In addition to which, DFM said that Azure adapts to traffic and usage demands, delivering as much or as little computing resources to run the app as necessary on demand, all year round.
Hassan Al Serkal, COO, head of market operations division, DFM said, "As part of DFM's ongoing commitment to adopting advanced technologies and the most user-friendly and highly efficient application tools to facilitate even faster access to market data, we are delighted to partner with Microsoft. The Azure system enables DFM to offer our market participants a fast, secure and reliable information environment meeting their evolving needs. Furthermore, the scalability of the Azure platform is also a major plus point. Since its inception DFM has been a market leader in adopting new technologies and innovative solutions including many state of the art eServices saving our market participants time and effort.
According to Microsoft, the newest browser, Internet Explorer 9, also plays a major role in the delivery of the app and the integration of HTML 5 within the new browser has enabled DFM to take advantage of many innovative features which provides users with the best experience possible. Because the Web is increasingly less secure and private, Internet Explorer 9 is designed to be the most trusted browser because it contains a robust set of built-in security, privacy and reliability technologies that keep customers safer online, Microsoft said.
Globally, Microsoft has partnered with more than 250 top sites from around the globe to take advantage of the capabilities in Internet Explorer 9 to deliver differentiated experiences to their customers, these partners include top social networks worldwide like Facebook, Twitter, LinkedIn, top commerce sites like Amazon & eBay and top news sites like CNN, Wall Street Journal and USA Today, to name a few, representatives of the company said.