The Dubai Health Authority (DHA) signed an MoU with four cutting-edge international companies to adopt their inventive healthcare innovations, in a bid to utilise the latest medical technologies in artificial intelligence to provide quality health services to the people of Dubai.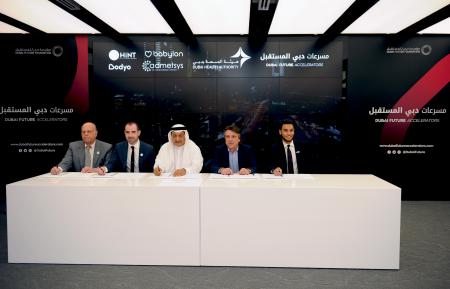 The partnerships were agreed on Thursday as part of the fourth cycle of the Dubai Future Accelerator's Programme.
With the signing of the MoU between His Excellency Humaid Al Qutami, Director General of the DHA and the four companies, the DHA is making a quantum leap that will strengthen the authority's medical system and its human cadres by equipping them with the latest technologies in the world of artificial intelligence used in diagnosis and treatment .
The Babylon health app uses AI technology and medical expertise to deliver 24/7 video consultations with doctors across Europe, North America, Asia and Africa. The consultation is provided through an AI chatbot and a live question-and-answer session with the user. The user can discuss the symptoms he or she has, and based on that, the app guides the patient to the right doctor. This health app, which was introduced in 2014 in the UK has over 2.2 million users worldwide, has been tweaked in line with the cultural requirements of the region, and is expected to be available in Dubai in a couple of months.
The Neuro Head band device by the Health Care and Innovative New Technology (HINT) is designed to detect a patient undergoing a stroke within minutes, alert the caregiver, the ambulance and the emergency within minutes thereby preventing any deterioration.
Bodyo's health pods are cubicles where residents can step in and be screened for body temperature, blood sugar, blood pressure, body composition such as height, weight and other such vital parameters, free of charge. The AI-assisted pod can instantly give the user an idea of his state of health where he can go in for a preventive health check-up. The procedure is simple and takes not more than 13 minutes the first time.
Flow cell sensors by Admetsys will detect sudden drops in vitals in ICU patients through an algorithm that measures these vitals constantly and it can be read by a nurse on the monitor at a glance. Any drop or rise is alerted by an alarm system. This saves vital time for the nurse and makes constant monitoring possible.
Following the signing of the agreements, HE Humaid Al Qatami said that the Authority is keen to be at the forefront of the transformation, which aims to establish an integrated global platform for the future of the strategic sectors and to create economic value based on embracing and adopting future businesses and technological solutions.