Dubai Silicon Oasis (DSO) has reached $56 million (AED 205.7 million), an increase of 9.5 percent over the previous year, as the number of firms increased in 2017.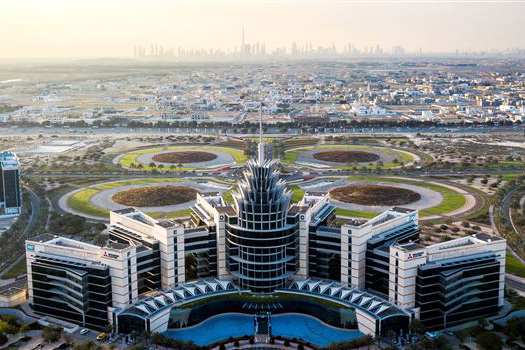 DSO's revenues grew 11.2 percent to $160 million (AED 590.5 million) in 2017 compared to the previous year, the free zone said in a statement.
The entity also witnessed an increase of 16 percent in business partners, with 2,459 companies currently operating within the high-tech park.
Sheikh Ahmed bin Saeed Al Maktoum, chairman of Dubai Silicon Oasis Authority (DSOA), said the results reflect the continued growth of the technology sector.
He further stressed that Dubai Silicon Oasis Authority is keen to implement innovative and smart initiatives and projects that contribute to sustainable development while supporting the emirate's economy, which is steadily moving towards a future based on diversity, progress and knowledge rather than the conventional dependence on oil.
In February 2017, Sheikh Ahmed bin Saeed Al Maktoum unveiled the memorial plaque for Silicon Park and laid the foundation stone for the project that will emerge as the first integrated smart city in Dubai. At a cost of AED1.3 billion, the project spans an area of 150,000 square meters and is expected to be completed in the first quarter of 2019.
Dr Mohammed Al Zarooni, Vice Chairman and CEO of DSOA pointed out that the project, which has achieved 40 percent completion, will comprise 71,000 square meters of office space, 25,000 square meters of commercial space, 46,000 square meters of residential area, and the 112-key and 59 furnished apartment complex Radisson RED Dubai Silicon Oasis. In addition, it will feature contemporary lifestyle facilities, such as restaurants, cafés, prayer rooms, a shopping centre, and an underground car park that can accommodate more than 2,500 vehicles.
Designed to offer an efficient, seamless, safe, and impactful city experience for residents and visitors to DSO, the project will incorporate 60 smart services worth AED100 million.
Last year, DSOA also achieved a number of milestones including facilitating the graduation of he first cohort of students from the Masters of City Science programme at the Rochester Institute of Technology – Dubai. In addition, aligned with the smart education initiatives launched by DSOA, Sheikh Ahmed bin Saeed Al Maktoum inaugurated the Dubai Smart City Accelerator, the first of its kind in the MENA region to specialise in smart city technologies. Located within Dubai Technology Entrepreneurship Centre (Dtec), which is wholly owned by DSOA, the AED19 million accelerator aims to empower startups and entrepreneurs developing innovative solutions for cities to become smarter and overcome the challenges of traffic congestion, waste and energy
DSO saw the inauguration of Schneider Electric's Innovation Hub on Wheels, showcasing its next-generation EcoStruxure architecture and platform that delivers IoT-enabled open and interoperable solutions across user segments.
The authority also signed a Memorandum of Understanding (MoU) with global payments technology company, Visa, to jointly support innovative startups and exchange knowledge of emerging technologies.
Commenting on DSOA's achievements said DSO has become one of the most important free zones in the region attracting international and regional technology companies to establish their business and augment their expansion and operations in the region.