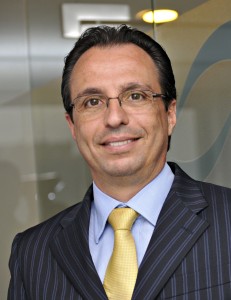 A conversation with Fernand Rasetti, COO of global software vendor Sage was, suffice to say, an interesting experience. An engaging personality, Rasetti spoke at length exclusively to CNME about why the Middle East market is crucial to Sage's growth strategy in the coming years.
"Because we cater to small and medium sized financial organisations in particular, the Middle East provides us ample opportunities. Financial organisations in the region heavily invest in ERP and CRM solutions to provision their customers better and essentially to streamline business processes. The Middle East market already contributes to about 30% of our year on year revenue growth," he said.
A vendor of banking software for financial institutions, Rasetti admits that a major portion of their target market encompasses the investment banks in the region.
According to Rasetti, the recent economic shock was just what the market needed, "Shocks are good. The past has taught us that excesses create both redundancy and incompetency and shocks help organisation's sit up and take notice of everything they're doing wrong and force you to rethink your strategies and structures," he explained.
Addressing the hot topics of virtualisation and cloud computing in the banking sector, Rasetti believes it is all about security.
"The only element holding the banks back from investing in virtual technologies and the cloud is security. Banks deal with crucial data, yours and mine. Their specific need is to make sure that the data is hosted in a secure vault at a known location and they don't have this privilege extended to them on both the virtual and cloud computing platforms," said Rasetti.
Rasetti believes that the banking industry looks for scalable ICT solutions; this is because the industry is radically forward looking. "Banks base their investments in IT on what will help them function better in the future, they don't want to be left behind," he added.
When asked if the IT requirements across SMEs and larger organisations varied Rasetti said, "The requirements are much the same; anything that helps an organisation operate efficiently. The capacity to manage these investments is different though. Although SMEs have a greater risk appetite in comparison to the larger organisations, in the sense that they are more willing to invest in the latest technology even without a clear blueprint to follow, they don't always have the budget to invest in these technologies."
Rasetti also addressed the existent skills gap in the region, "What everybody needs to understand is that the Middle East is still a young market, taking baby steps towards deploying not only the most advanced but increasingly complex technologies. In this regard it takes time to create the knowledge we need to service and manage these solutions. Although most may regard this as a challenge, I see this as an opportunity to educate and share the knowledge we already have to build a knowledge based economy that is both forward thinking and ready for any challenge," concluded Rasetti.
Fernand Rasetti, was in town for the MEFTEC event and visits the region as often as possible to address challenges their customers may be facing while tracing new business prospects.
A software development company that specialises in servicing the global financial industry, SAGE is the reference in providing banking solutions and streamlining processes for wealth management, asset management and trading firms. Its goal: Help financial professionals to focus on what they do best–managing money, not systems