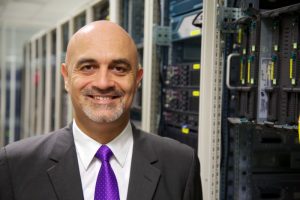 eHosting DataFort (eHDF) has expanded its Managed Security Services (MSS) portfolio with advanced services that include SIEM, Real Time Threat Monitoring (RTTM), Remote Managed Security Services, Advanced Threat Protection (ATP), PCI Security Services, Incident Response (IR), etc. This also includes eHDF's new Cyber Defense Centre (CDC), which was launched earlier this year and lends a new dimension to MSS.
The firm's MSS portfolio provide an integrated platform and is supported by a team of security experts. It addresses the need with easy-to-deploy solutions, and is the fastest and safest way for organisations to maintain the security and compliance of their critical business data.
"The MSS market according to a study by MarketsandMarkets is estimated to grow from $17.02 billion in 2016 to $33.68 billion by 2021, at a Compound Annual Growth Rate (CAGR) of 14.6% from 2016 to 2021. The depth and breadth of the service requirements is echoed in the way we have moved towards adding a set of robust solutions that will provide a strong approach to our customers security position. Our advanced technologies will match their ongoing needs for security, analytics and incident management cost effectively and is further strengthened with the option to avail of the services within our own data centres, on the cloud, or on premise," said, Yasser Zeineldin, CEO, eHosting DataFort.
In a fast-paced IT threat landscape, the proactivity in monitoring and managing the environment is critical to security. eHDF's RTTM services takes a comprehensive approach to log collection and analysis, incident classification and notification and provides a better visibility to threat posture. The outsourcing of a special Remote Managed Security Service enables customers to manage and monitor their SIEM. For customers that need PCI compliance, the firm's latest PCI Security Services can assist customers in their assessments and ongoing monitoring needs.
The company also offers Vulnerability Management (VM) to their clients. This fully managed service includes the provision of licenses, scanners and skilled resources to manage the Vulnerability Management lifecycle and integrate it into the SIEM solution. The flexibility that comes with the Incident Response management both onsite as well as remotely, provides deeper insights into incidents and provides a more informed approach to control and manage the situation. The company also offers proactive monitoring and DDoS mitigation services, and retains only legitimate traffic flow into the customer network.
The launch of the company's Cyber Defense Centre (CDC) has expanded customers options with Remote Managed SIEM Services. It also comes with enhanced delivery options of either using it within eHDF's data centre, on customer premise or on the cloud.
The firm said that the integrated end-to-end solutions are built to safeguard mission critical systems against the widest range of internal threats and external global threats. This is possible with advanced technologies that help in monitoring, controlling and remediating security breaches on an ongoing basis.