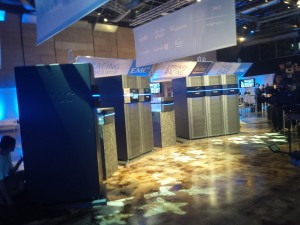 EMC today announced advances in its VNX line of midrange storage, which will now be built for flash first, and new capabilities for its VXPEX Proven Architecture portfolio.
The storage giant also revealed that its software-defined storage platform, VIPR, which was launched back at EMC World in May, will be made generally available on 27 September 2013.
While EMC hosted multiple events around the world throughout the day, it was in Milan where the main action took place. President and COO took the stage first to say the new announcements provide customers and partners with the "essential building blocks they need" to build cloud environments.
"Customers are demanding more performance and efficiency from their current data centre infrastructure while, at the same time, exploring new architectures for their next generation mobile and Web applications," Goulden said.
"By fully embracing and exploiting disruptive technologies such as Intel MultiCore, virtualisation and flash, EMC is providing customers with the products and solutions they need to help transform their IT department — not only delivering unprecedented levels of performance and efficiency but also providing the agility needed for their business to remain competitive."
At the heart of the new announcements was the launch of the new range of VNX unified storage systems — VNX5200, VNX5400, VNX5600, VNX5800, VNX7600, VNX8000 and VNX-F).
Goulden said the advancement "shatter the definition and economics of midrange storage", as well as "raise the bar" for application performance, storage efficiency, data protection, data availability and ease-of-use.
The new VNX utlises MCx software and flash memory to accelerate application and file performance by up to four times.
According to EMC, the new platform also delivers an unprecedented value offering by costing a third of the price as the same performance in the previous generation.
Further value will come from the new VNX now being used to power all EMC VSPEX reference architectures, which will deliver double the amount of virtual machines and a broader spectrum of choice for workloads at the same prices, the company announced.
VSPEX is the world's fastest growing reference architecture with 3,600 shipments adopted by 3,000 customers and 1,500 partners, it added.
EMC also offered a technology preview of "Project Nile", which it said will be the first commercially-available complete, Web-scale storage infrastructure for the data centre.
Finally, EMC announced that new EMC XtremSW Cache 2.0 software will offer deeper integration with EMC arrays, including the new VNX Series, which will further driving down latency by 65%.
The advanced caching software also delivers greater interoperability, EMC added, with VMware vCenter, industry first IBM AIX support, and distributed cache coherency for Oracle RAC environments, which are scheduled to be available in the fourth quarter of 2013), as well as increased support for any server flash SSD or PCIe hardware.
CNME Editor Ben Rossi is reporting live from the EMC launch event in Milan. Follow Twitter updates at @ComputerNewsME and #SpeedToLead.